Last post, I talked about the value of strategic and concrete feedback.
Today, I want to talk about ideally what senior leaders should strive to deliver to improve the communications competence and business results of their team.
I worked with a senior leader recently who was facing some significant communication challenges with her team. As we talked about what was happening and got to the root of the issue, it became clear to me that her expectations weren't clear.
All of us can learn from many of the expectations she and I discussed:
Lead by example, and be willing to be held accountable
Listen first to understand
Implement a plan to improve communication within the team
Provide the training and support needed
Continually link work back to the overall strategy of the organization and the context behind strategy, goals, and ongoing decisions
Better engage direct reports and staff in key discussions and decision
Measure progress regularly
When she presented these expectations to her team, she first talked about what she expects from them. Then, knowing expectations are a two-way street, she told them what they can expect from her. She led by example is an incredibly powerful way.
Just days later, she's already seeing improvement. And, she's doing one more thing that's brilliant: she's reinforcing through positive feedback all of the new behaviors she's seeing that she wants to see more of. And those behaviors are multiplying ten-fold. She's on a roll!
Does your team know what you expect of them and what they can expect of you? Might now be a good time to clarify expectations?
- David Grossman
_________________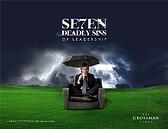 Free e-book: The Se7en Deadly Sins of Leadership
All too m any leaders succumb to "The Se7en Deadly Sins of Leadership". Only by knowing these sins can you begin to think about ho w to navigate around them, and only then can we make the greatest impact on the people we lead. >" target="_self">Download Now >>