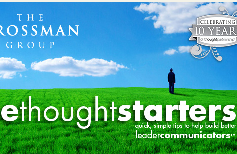 The science is in…
A recent study released in
The Annals of Internal Medicine
showed that communication and culture impact patient outcomes more than any other factor…even the best equipment or surgeons.
The researchers focused on hospitals with the lowest and highest mortality rates from heart attacks, and compared their performance with themes from more than 150 interviews with physicians, nurses and administrators.
According to the study, what affected outcomes more than anything else was simply this: a cohesive organizational vision that focused on communication and support of all efforts to improve care. "It's how people communicate, the level of support, and the organizational culture that trump any single intervention or any single strategy that hospitals frequently adopt," said Elizabeth H. Bradley, senior author and faculty director of the
Yale Global Health Leadership Institute
at
Yale University
, as quoted in the
New York Times
.
Earlier studies suggested other explanations for the difference in outcomes such as income, affiliation with an academic medical center and number of beds, among others.
"A lot of people think that you have to go to a really big city teaching hospital with really expensive equipment," Dr. Bradley said. "But we didn't find that to be true."
"We have to focus on the relationships inside the hospital and be committed to making the organization work. It isn't expensive and it isn't rocket science, but it requires a real commitment from everyone."
I couldn't have said it better myself.
--David Grossman