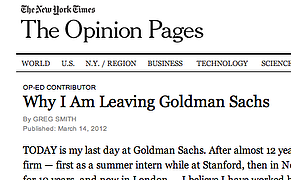 Greg Smith launched a great deal of discussion and debate this week with his public resignation from Goldman Sachs on Wednesday through the op-ed column of the New York Times. His claims: a "toxic" environment where Goldman leaders belittle clients and use them as pawns in self-serving revenue-generating schemes.
Goldman leaders posted a reply on the company website on Wednesday in which they denounce Mr. Smith's claims. From where I sit, something doesn't add up. Why would one employee take such drastic measures to call out an employer and risk his own reputation if he didn't feel there was a serious problem at hand?
In my experience with thousands of employees from sizable corporations, such as Goldman, across the country, I have seen this sort of disconnect play out in many ways. It comes down to the fact that actions speak louder than words. Corporate missions, visions and values are terribly important tools for guiding the implementation of business strategies, however, they are meaningless if leaders don't role model them day-in and day-out for employees.
Even Goldman CEO, Lloyd Blankfein, stated in 2010 that there were suspicions then that "something is broken" within the renown financial institution. Goldman's website statement on Wednesday would have had significantly greater credibility in my view if they had outlined steps they have taken over the past years to change the Goldman-first mentality.
Leaders can not adopt, "Do as I say, not as I do" mentalities. In the case of Greg Smith, he clearly was not on board with the actions of his leaders, which ended up costing the company $2.15 billion in market share in one day. A dear price to pay for disengagement.
If one of your employees were to write an op-ed about your company, what would it say?
-David Grossman
_____
Get the newly-released 2nd Edition of David Grossman's You Can't NOT Communicate. Because you really can't not communicate.