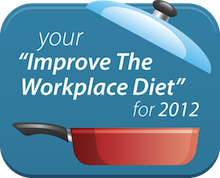 In the most recent edition of my 2012 Workplace Diet series, I wrote about the importance of seeking input and feedback to lead better and create a productive work environment where people can thrive.
You've asked your team for feedback. They've responded with honest, considerate input.
So…now what?
As a leader, when your employees share their thoughts, your work is just beginning.
This is the time when you need to take action on their feedback. No matter whether you plan to implement their suggestions or not, you need to close the loop with employees to let them know:
you're implementing their solution, and the rationale
you're implementing a modified version of their suggestion, and the rationale for that
you're not planning to implement their solution, and the rationale for that
In all cases, you cover the "what" – what you plan to do, and then the "why." This helps employees know how you think (what guides your decision making), which allows them to think more like you in the future. It also might open a conversation for how others might ask you to think differently about a specific problem or opportunity.
Finally, when you communicate about the solution, don't forget to mention where the idea came from and recognize the employee for their valuable perspective.
When employees know their input is heard and valued they will be more willing to share their feedback in the future. They will also feel more engaged when they know their thoughts and insights are valued.
Put yourself in your employee's shoes. If you feel like your important thoughts are being heard and making a difference, wouldn't you be more likely to give a little extra effort, to be more loyal? Wouldn't you be a bit more engaged?
Soliciting employee feedback is one thing, but the proof that you take it seriously comes from taking action.
What opportunities do you have today to listen and take action on employee feedback?
___
Get more great resources for leaders in our CEO Ultimate Resource Center.