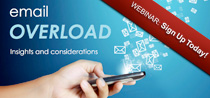 Last Chance to Register - Sign up today for our webinar: "Enough Already! Stop Bad Email. Reversing the Notion to 'Ban' Email"
There are just two more days to register for our live webinar this Wednesday, August 29 – "Enough Already! Stop Bad Email. Reversing the Notion to 'Ban' Email."
Stopping email is not the answer. Sign up today and learn:
About today's overall internal communications climate
The impact irrelevant emails have on employees and your bottom line
About employee perceptions on work-related emails
How organizations are responding
This is an opportunity to learn insights and strategies, engage in thought-provoking discussion, and consider what's possible.
Join us on Wednesday, August 29 for "Enough Already! Stop Bad Email. Reversing the Notion to 'Ban' Email" – sign up today! http://bit.ly/S4TIZ7.
____