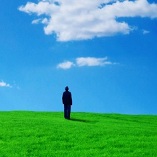 It's back to school time. That got me thinking about some leaders I know who could benefit from a "back to school" mentality when it comes to how they lead and communicate:
The leader I talked with last week who doesn't think he has any opportunities to be better
The young professional from a leading global corporation who thought change management strategies were all common sense, and therefore not worth her time to understand
The senior executive who was cognizant of everyone else's communication issues, yet didn't realize how he was contributing to low morale
Each – in his or her own way – was struggling with a significant business change they were leading, yet wondered why the change efforts weren't succeeding as they had hoped.
Each was either unwilling to hold a mirror up to himself and/or didn't believe what he or she was seeing in the mirror. It's easy to deflect or blame others; it's much harder to look inward.
Every turn in life provides an opportunity to learn. The most effective leaders are also students in the sense that they are focused on continuing to learn and grow.
The most effective leaders know leadership starts with knowing oneself. They are open to others, and what others bring to the table. They approach conversations and think, "What can I learn from this person?" They regularly take time to reflect and take stock. They examine their beliefs and in many cases change them. And so much more.
On what topic are you a student today?
-- David
____