I'm pleased to share with you my inaugural post of Hit or Miss-ive—our new CEO communications critique column. Over the past months I've seen a plethora of leader communications that were leaked to media. With the nature of online information sharing today, these communication leaks inevitably get out, and fast.
This allows us to see the good, the bad, and the ugly (and there's more bad and ugly than there should be). I see this as a coaching and learning opportunity for all of us, as well as an opportunity to dialogue about what effective leadership communication from the top looks and feels like.
I'm launching Hit or Miss-ive to help us avoid the traps and to celebrate leadership communications victories. I'll analyze what works and what doesn't, along with give strategies and recommendations for credible and meaningful communications that employees can rally around and leaders can be proud of.
My format is simple…I'll share my thoughts of what was done right and what the senior leader could have done better.
Today…CEO Andrew Mason's departure letter from Groupon. While humor is a smart way to demonstrate humility, my sense is that Andrew took it too far.
Click the image below to see how his humor derails, and as importantly, what he did so well.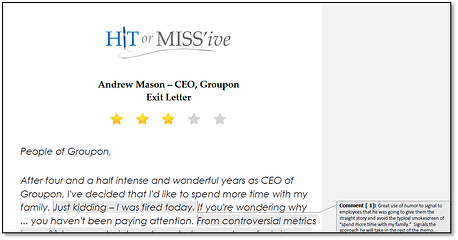 Please weigh in and add to the discussion.
- David Grossman
_________
Are you a leader looking for communication advice? Visit our Ultimate CEO Resource center to access free resources today.