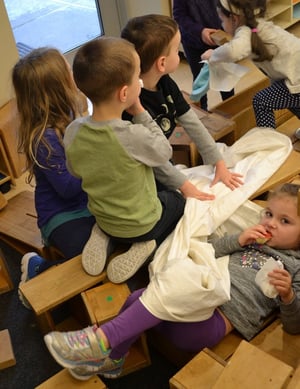 My daughter, Noa, on her terms.
I recently had a parent-teacher conference about my youngest daughter, Noa, with her kindergarten teacher who's a rock star. We were talking about how Noa's very capable overall, and is a child who does things when she's ready, and on her terms. "Her terms" is the key phrase, which Steve and I wholeheartedly support.
He relayed to us a time when the kids built this elaborate structure where they were playing a very involved game. Long story short, the building ended up crashing and many of the kids were upset and feverishly trying to rebuild.
Noa, on the other hand, grabbed a snack, laid down in the rubble and went, "eh." Sometimes in the face of a catastrophe or big challenge, we need to follow Noa's lead and take a deep breath, take stock of what we have, and grab a snack.
That's one way to respond to life. On our terms.
—David Grossman
---
Click below to download this free eBook—Respectful Authenticity: Bringing Your Best to Work and Bringing Out the Best in Others—and find the value of leaders living authentically so they can be their best selves, motivate their teams, and get results. Click below to download today!