May 2, 2022
5 Ways Leaders Can Drive Employee Engagement Today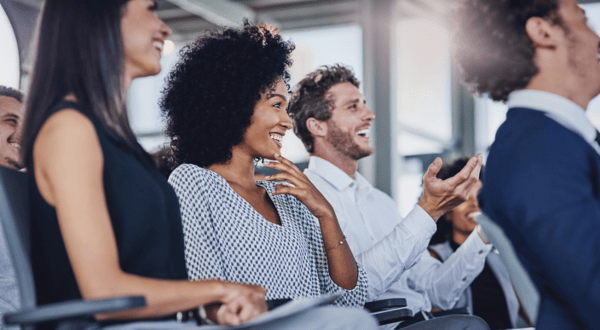 Employee engagement is evolving, and leadership must evolve with it. Some call it the New Normal; others call it the New Better—with a wholly redefined employee experience. At The Grossman Group, we like to call it the New Reality. The fact is: workers everywhere have more leverage than ever before—and that likely isn't changing anytime soon.
We need to think differently about employee engagement in the new reality. Engagement is an emotional connection employees have with their work, and that emotional connection brings all kinds of benefits. It helps employees feel more excited to come to work because they are connected to their colleagues and leaders and feel they are doing work that's meaningful and interesting. It also often results in something extra—extra time, extra energy, extra brainpower. Employees go above and beyond with discretionary effort because they're motivated to do so.
So how can leaders drive engagement and retain employees amid one of the greatest workforce shifts in U.S. history?
Heart First Leadership: It's Good For Business
Leading with heart is about championing authenticity, empathy, and humanity to build stronger, trusting relationships, which improve engagement, retention, and business results. It's about being human as we lead. When you lead with heart, you help people be their best selves, bring a greater sense of purpose and meaning to every member of your team, and inspire them to achieve so much more for themselves and your organization.
Not only that, but Heart First leadership is also good for business. A recent Catalyst study revealed that leaders who practice empathy will have a more engaged and higher-performing team. Eighty-five percent of employees report that empathetic leadership in the workplace increases productivity according to a recent study by EY Consulting.
5 Heart First Leadership Tips
Throughout the pandemic, we've learned how powerful it can be when leaders make personal connections with their people. Here are some tips to get started:
Listen and respond. Take the time to understand what's on your team's minds. What questions and concerns do they have? What do they need to make their work experience better? Ask for their feedback—and show them you're listening by acting on what you hear. You won't be able to fix every problem but do what you can and explain why when you can't, providing the context they need to understand the situation.
Be willing to be vulnerable. Share your own story and life experiences, your challenges and the things that matter most to you. Doing so will make your team members more likely to share their stories and journeys—what has made them who they are and what their hopes and dreams are for the future. It will also open the door for them to be more comfortable sharing work-related feedback that you can act upon. And it will make you more relatable and help you build trusting, meaningful connections with your team.
Share what you know when you know it. Easier said than done, I know. And sometimes, you're bound by the confidentiality of the information you have. But often, you can share information about what's going on or what the vision is for the future. You can provide context for company decisions and help your team members see what it means for them. If you don't know the answer to a question a member of your team asks, find the answer and tell them. Candor builds credibility and trust.
Recognize your team members for their hard work and accomplishments in ways that matter to them as individuals. Sure, you should take advantage of your corporate recognition programs and the points and perks they offer. But that's not enough. Make a goal to send three hand-written thank you notes a week to different members of your team.

Call out specifically what they did as an individual to earn your thanks. To the degree that you have leeway to purchase modest thank you gifts, pick something that matches the interests of the individual, whether that is a gift certificate for dinner or tickets to a ball game. Show them that you care enough to know what's important to them.
Build regular recognition into your team meetings. Set aside a few minutes at the start or end of every team meeting for a shout-out to a team member. You can do it yourself or set it up where team members recognize a peer for something they did. By making it a regular part of your team meetings, you'll create a culture of gratitude and recognition.
Which of these tips could you put into practice right now to help evolve your leadership and reap the benefits of improved employee engagement?
—David Grossman
---
Get practical, actionable guidance on how to retain your organization's greatest asset – its people. Click below to download this eBook—Holy Shift: Lead with Heart to Engage and Retain Employees During The Great Resignation—today!