January 5, 2022
7 Essentials to Lead Through Change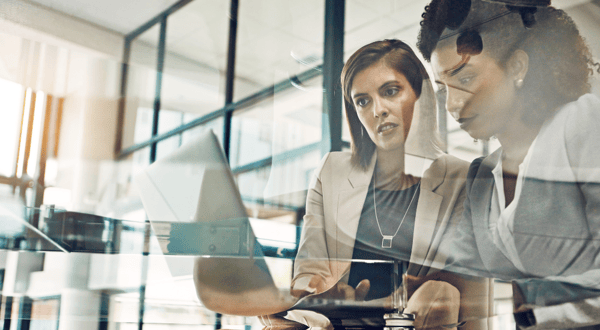 Since the start of the pandemic, organizations of all sizes navigated unprecedented challenges and changes along with their employees. Some were surprised at what they were able to accomplish during this critical time. In fact, we heard several examples of multi-year change programs that were accomplished in a matter of months after the pandemic upended everything.
So how did they deliver change at a pace they didn't know was possible? The circumstances of COVID-19 were a big driver; ideas that may have seemed optional or not time-sensitive before the pandemic became necessary and urgent.
With a compelling case for change, and a clear need to take care of their employees, leaders engaged and responded to quickly align goals, set direction and move to action.
Faced with a situation that seemed non-negotiable, leaders focused more on clearing the path to completion than on a long socialization process.
When you need to change to survive, it makes sense that the vision and the path forward would become crystal clear for leaders. It was the perfect time to apply some of the essential principles for leading and communicating change, and fast!
Guiding Your Employees Through Change
Here are the seven essentials in the change process that, when prioritized and streamlined, can help smooth the path to change:
Alignment and leadership engagement—An organization can move through change more quickly if the leadership team is informed and aligned with the planned changes and ready to take responsibility for bringing employees along. This starts with a committed executive sponsor who actively and visibly advocates for the change. Once senior leaders are aligned in support of a change, leaders at all levels must be equipped and accountable for explaining it to employees and helping interpret what it means to them.
Compelling case for change—A substantiated business case, supported by clear data and thoughtful rationale, enables alignment and understanding of the proposed change across the organization. This should spell out the problem that must be solved, the reason for the change and the intended future state. It should explain the story at a high level and include appropriate detail where needed to address the most common questions that leaders and employees may have.
Clear vision and course of action—Everyone in the organization must understand the vision for the future and how their work helps achieve it. A clear vision statement and high-level roadmap of key steps needed to attain the vision gives leaders what they need to explain the path forward and outline what actions employees can take to advance the change.
Transparent and consistent communication—A well-planned cadence of communication that delivers consistent information across the organization is essential to gaining employee support and adoption for any change. People look to their leaders for clarity and candor about what is happening and when, and what it means to them. The change communication strategy should include tools and training to ensure leaders are clear on the goals, process and plans for the change and clearly articulate their responsibilities for communicating with their teams.
Listening and responsiveness to employee needs—Managing the "people side of change" means helping employees understand what is changing, using their input to improve the planned approach, and guiding them through the transition to new work environments or ways of working. Most importantly, it requires that leaders demonstrate that employees are valued and cared for by answering their questions, listening to their feedback and concerns, acknowledging their challenges and providing the support and training they need to be successful.
Shared commitment—With leaders and teams aligned and in sync, the common bond of commitment to the new direction can build momentum and inspire progress in the change effort. A sense of camaraderie comes from working together toward a shared goal, with each employee playing an important role as part of the larger team. Leader engagement with employees, consistent messages about the change and communication that highlights progress, all contribute to building and maintaining shared commitment.
Recognition and reinforcement—When people are asked to do things differently and adopt to a "new normal," recognition of their efforts and reinforcement of the new way of working are critical to motivating employees and sustaining the change. Change and communication strategies should include ways for leaders and peers to acknowledge successes and provide kudos to colleagues, as well as share examples of how people who have adopted new ways of working are achieving the organization's goals.
Thoughtful change management and communications plans, with a clearly defined business case, vision, and purposeful alignment of the organization around the goals of the effort, can help remove obstacles and facilitate adoption of a change.
What can your organization do differently to help streamline and accelerate the next change?
—David Grossman
---
Help guide your communications in times of change with this tool: