July 28, 2015
New eBook: 7 Most Important Ways to Reduce Email Overload @ Work
Few companies are immune to email overload inside their organization today, it's costly and needs to be managed.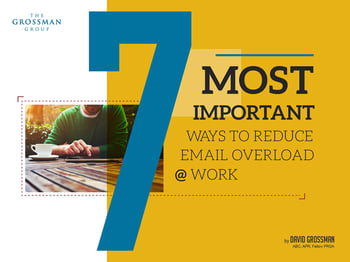 For example:
Our research has found that on average employees spend 71 hours on irrelevant email per year.
For one Fortune 100 client, research showed that irrelevant emails cost them $909,000 per day and $236 million per year.
Only 40% of employees at one organization say emails frequently answer their questions and that the content is relevant to them
We also found some of the top issues employees list with work-related emails:
Having too many back-and-forth replies: 30%
Using email when a meeting/phone call would be more appropriate: 19%
Using reply-all: 26%
Being poorly written/unclear: 24%
It's no secret that email overload is a huge issue for many organizations and has an equally big impact on the kinds of alternatives and investments that are needed to reach your internal audiences when email can no longer be counted on.
At The Grossman Group, we work with companies to tackle the email monster head on and help employees use email differently. The results are always extremely promising; one company saw a 20% reduction in email in the first 6 months alone. Also, in the first 3 months of rolling out an email campaign for another, nearly 8,000 employees took a pledge to commit to using email more efficiently.
In my latest eBook, The 7 Most Important Ways to Reduce Email Overload @ Work, we'll offer you some critical background and strategies to help you manage email in the most effective way possible.
Here are 7 of the most important strategies and takeaways:
1. Identify email personas and attack the bad behaviors
The use of these email personas can help employees identify and tackle bad email.
2. Recognize email overload as a serious productivity issue
Irrelevant emails are costing companies major time and money.
3. Get to the heart of your specific email problem
Before you can do anything about email volume, it's important to first understand the stress caused by email overload in your organization.
4. Diversify your email options
Ensure you're carefully selecting your communication vehicles in all instances, rather than bombarding employees with emails.
5. Ensure that leaders set the tone on email
Training top leaders truly works and those new practices can have a trickle-down effect for the entire organization.
6. Recognize that despite its limitations, most workers still want email
The fact is many employees rely on email and actually appreciate it as a key communications tool.
7. Accept that email is here to stay (at least for the near future)
It's not about eliminating email to be more effective, it's about choosing the right vehicle for the message.
As you read this eBook, these strategies illustrate there is a better way to use email in companies today, and there are many new options for making better use of it in business.
Download—The 7 Most Important Ways to Reduce Email Overload @ Work—and gain a more productive workforce.