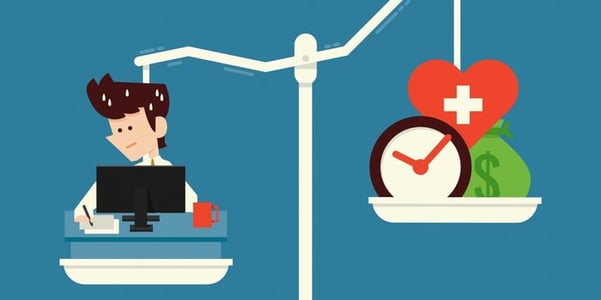 I've been fortunate enough to make connections with, and get to know, other leadership and communication bloggers over the past several years.
One of my favorite bloggers to follow, Jon Mertz, runs the blogging community, Thin Difference, which covers topics from leadership and generations in the workplace to inspiration and creativity.
So when the Thin Difference team reached out and asked me to participate in a New Year Series they were putting together on finding joy, whether it's in work, life, society, culture or elsewhere, I was honored to participate.
An Unexpected Wake‑up Call
And oddly enough, it came at an especially fitting time, as I started 2018 with an unexpected surprise, that served as a reminder for me to be kind and gentle with myself.
Life, joy, and the little things were put into perspective for me during this time and I wanted to share my thoughts with you, too.
I hope you read my post – Balancing Health and Work: A Call to Be Kind and Gentle to Oneself – which you can find here on Jon's blog.
How do you find joy in your work, life and more?
—David Grossman
---
This free eBook—Respectful Authenticity: Bringing Your Best to Work and Bringing Out the Best in Others—is written for leaders who wish to bring more of who they truly are to the workplace. Click below to download today!