September 2, 2020
Back by Popular Demand Webinar – Rebooting Communications: Creating Your Path Forward Communication Plan 2.0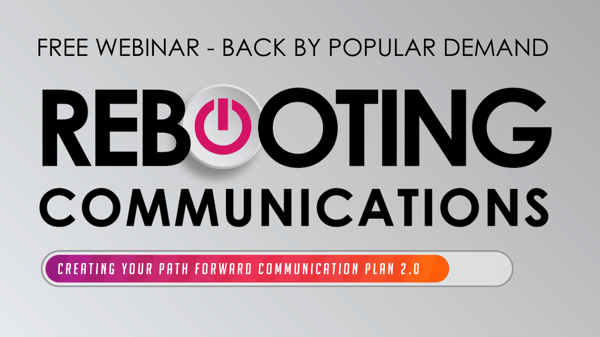 Our 60-minute, complimentary webinar, Rebooting Communications: Creating Your Path Forward Communication Plan 2.0, is returning September 15th and 16th.
During the sessions in August, my colleague David Wright and I talked with attendees on a number of topics, including:
How their approach to internal communications has changed since the start of the pandemic
Whether they are facing a backlog of topics to communicate – and what to do about it
Biggest challenges communicators have when it comes to rebooting communications
Tips for success as they reboot communications in their organizations
And more
The unexpected events of 2020 give us a rare opportunity to take the lessons of this year, reevaluate our programs and practices and rethink the way we approach communication to deliver even greater value and drive employee engagement for the long-term. We've enjoyed getting that conversation started with our communications colleagues during these webinars.
If you missed the sessions in August, join us for one of the reprise webinars on September 15th or 16th to:
Reflect: Diagnose where you are and what you have learned through COVID-19
Reimagine: Challenge assumptions, develop a clear vision for what you want the future of Communications to be and define the best path forward
Reboot: Implement your communication plan to realize long-term success
Seats are limited so reserve your spot here for one of two back by popular demand sessions.
Tuesday, September 15 at 11:00 a.m. CDT
(9:00 a.m. PDT, 12:00 p.m. EDT, 4:00 p.m. UTC/GMT)
Wednesday, September 16 at 1:00 p.m. CDT
(11:00 a.m. PDT, 2:00 p.m. EDT, 6:00 p.m. UTC/GMT)
Also, feel free to share this link with friends and colleagues who you think might benefit. All are welcome.
We look forward to helping you take the good from these past few months, leave behind what didn't work and recast your communications for an even stronger future.

—David Grossman
Spots are limited so click below to reserve one of our 2 complimentary webinar sessions.
Note: If you have trouble accessing the page please try using Google Chrome to register for the webinar.