August 18, 2015
Barriers Communicators Face #4 - Your Leader's Not Engaged in Communication
We've entered the dawn of the leadercommunicator, where we can't separate leadership from communication.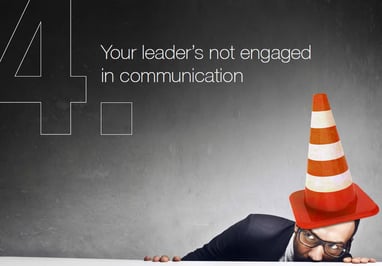 Here are ways you can recognize, respond and help your leader if they aren't engaged in communication.
If your leader sees communication as a tactic for which the communication department is solely responsible, you may hear:
• "You'll figure it out."
• "Just tell me what I need to say."
• "I don't have time to talk more about this."
• "That's your job, right?"
Some things you can say to help your leader become more engaged:
• "First, what's the outcome you seek from this communication?"
• "Here's why communication is important to reaching your business goals…"
• "To help you best, here's what I need from you…"
• "Everyone will pay more attention if it's clear that this is coming from you, with your words and your voice."
• Speak the language of business and be well-versed in leader's business goals ("here's how I see this help you get to X business goal").
Engage your leader in various processes as appropriate. Here are some ideas:
• Develop performance contracts that set expectations.
• Find and work with "early adopters" who can model the behavior (and results) you want; then, merchandise their successes.
• Ideally, have someone else talk about the value of communication for you.
• Create a business case with his/her data showing it's necessary to focus on communication, which will lead to business performance.
• Summarize meetings by speaking to what's been accomplished in the meeting.
As you go through this process, give your leader "homework" – something you need from him or her to complete the process. When you do, you give him or her a key role in the process, increasing the chance that he or she stays engaged and is energetic and passionate about the project you're working on together.
How will you get your leader more involved in communication?
-David Grossman
--------------------------
Get essential tips for connecting and communicating with employees to achieve meaningful growth. Download, The Leader Differential: Five Steps to Thrive (Not Just Survive), today!