October 1, 2015
Barriers Communicators Face #6 - Your Leader Doesn't Value Communications
Too often, leaders see communication as a "soft" activity or goal that should yield to more concrete metrics that directly impact the bottom line.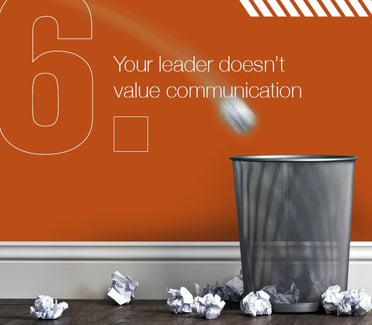 Here are ways you can recognize, respond and help your leader if they don't feel communications is a high priority.
If this is the case, you'll hear a leader who doesn't value communication say or do things like:
• "I'd rather focus on my business priorities and leave communication to the communication team."
• "We're a bottom-line business, and I don't have time for soft talk about 'communication'."
• "Communication is a nice to have, not a need to have."
• "People communicate every day around here, what more do we need to do?"
• Operate in silos or have senior managers that don't see communication as their responsibility.
To get leaders or managers within your organization to change their thinking, begin with:
• "Here's why communication is important to reach your business goals…" and connect the dots to his or her priorities (it may also be helpful to have someone else talk about the value of communication for you).
• "Great communication is critical if you want to motivate people to do their best work."
Then be ready to speak about the importance and value of communication.
• Have your own mini business case ready on the role of communication: Use your own voice, but customize it for the leader. Include an elevator speech, proof points, and stories. Consider your key audiences and where they're coming from. If your leader is a numbers person, you'll want data. If your leader doesn't like to get bogged down in the details, illustrative stories may work better.
• Find and work with early adopters: These are people who can model the behavior and results you want. They can then advocate for you, and you can merchandise their successes.
• Use the power of an objective viewpoint: Get someone else to talk to your leader about the value of what you do.
Here are facts to help you get started on figuring out the bottom-line value of communication for your organization in terms that have meaning for your leaders:
• Companies with high effectiveness in communication and change management are 3.5 times more likely to significantly outperform their less effective peers via Towers Watson's 2013-2014 Change and Communication ROI Study.
• Effective communication is consistently cited as the number one attribute of effective leaders, according to employees via Ketchum, "Leadership Communication Monitor Study," March 2013.

• Misaligned communication costs small-and-medium-sized businesses an average of $26,041 for every knowledge worker dealing with ineffective communication, and could cost a 100-employee company more than $500,000 a year via SIS International Research for Siemens Communications.

The bottom line is leaders put time and effort into anything that will help their employees become more effective, more impactful and generally better leaders.
How will you inform your leader of the value communications has?
-David Grossman
-------------------
Want to get inside your leader's head in order to learn about what they really value? Download the free eBook, How To Think Like a CEO, by clicking below.