October 27, 2015
Barriers Communicators Face #8 - Communication is Reactive and Scattered
More often than not, organizations don't apply the same rigorous discipline to planning strategic messages that they would to other areas of business like operations, finance, or sales and marketing. The result is scattered or reactive communication.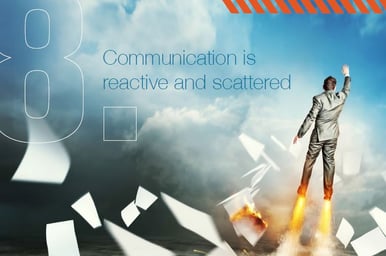 Here are ways you can recognize, respond and help your leader if their communication is reactive & scattered.
You'll see things like this when your leader co

mmunicates reactively or is scattered:
• Handling one-offs vs. working a thoughtful, strategic plan.
• Communication plans that are constantly reinventing the wheel.
• Different leaders saying different or even contradictory things about the same topic; no quick, consistent takeaways for the key audiences.
• Jumping around to new tactics without aligning them to goals and strategy.
To move your leader toward communication that's planned and purposeful, say:
• "We can maximize your visibility and impact and merchandise your results through a strategic communication plan. I'd like to develop a draft for us to review together."
• "We'll save a lot of time and energy if we make sure everything we're doing ties back to strategy."
Here's what to do:
Get to work developing a communication plan for your leader. Create a message platform that can serve as the blueprint from which your leader can capture the key messages for any kind of topic – organizational, key initiatives, timely announcements, department plans – and deliver information to audiences in a way that meets their needs. Include in the message platform:
An elevator speech: This is your leader's main message that can be delivered in 7 to 10 seconds. It provides a brief snapshot of the topic and leaves the audience saying, "Tell me more."
Supporting messages: The "tell me more" part comes with supporting messages. Data, information, illustrative stories, examples, and testimonials bring your leader's messages to life and describe the "why," "what," "how," and "what's in it for me." Remember that a story is worth a thousand data points. Include personal stories from your leader. This will help them create an emotional connection with the audience. Stories can also reinforce the behaviors and action your leader wants to drive.
Input from key players: Message platforms aren't created in a vacuum. If your leader will be delivering messages on a program or initiative, get input from the people who know the program or initiative best. Let them be part of developing the messages.
The best message platforms fit on one page so messages are focused and prioritized. They also factor in how your organization "thinks," e.g., if your organization is visual in how it presents information,then your leader's message platform should be too.

Helping your leader move away from scattered, reactive communication to purposeful, planned communication through a message platform lets him or her make real connections with audiences, share his or her vision and drive the right behaviors.
What else will you include when you create your message platform?
-David Grossman
----------------
Learn how to use social media as an effective message platform. Download the free eBook, Enterprise Social Media: 5 Ways to Maximize Trust and Master Social Media on the Inside, by clicking below.