March 15, 2010
Welcome to The leadercommunicator Blog and the New yourthoughtpartner.com!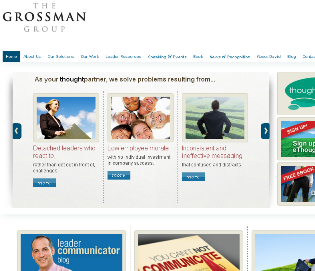 This is a big year at The Grossman Group. Ten years ago, I left my position in internal communications at McDonald's to launch a different kind of agency, David Grossman & Associates. I knew there had to be a better way for companies and agencies to work together, and saw an opportunity to create a tool set that I wish I had on the corporate side, along with a way to partner that leads to communication at its finest and the business results all of us want.
Our thoughtpartner™ approach continues to be the hallmark by which we work and partner, and now we have an even more robust methodology and tool set for leaders and those who support them. We've listened to you and your needs – to your toughest and everyday challenges, and have what you need to help. Chances are, we've solved your current challenge, and would love to leverage our experience for you.
In the spirit of celebration that a ten-year anniversary deserves, The Grossman Group is marking the milestone with some big rollouts: our newly redesigned yourthoughtpartner.com website, the launch of my new book, You Can't NOT Communicate, expansion of our Ultimate Leader Tools, and, of course, the launch of this blog (The leadercommunicator Blog).
Yes, the self-proclaimed "anti-social media guy on the inside" is going to blog. (However, this doesn't change my fervent belief that face-to-face communication is on life support in many of our organizations and it's getting in the way of engagement, and subsequently, business results.) You know my passion around the need for dialogue and real conversations, and I hope this blog will help facilitate some dialogue that's aided by technology.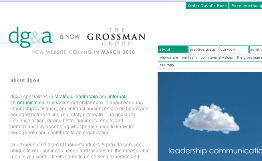 While the team and I were busy helping everyone else, it seems we weren't as strategic as we could be with our online presence. As those of you who've been with The Grossman Group for a while know, we have a lot of content to share, and somewhere along the way, we built up a maze of sites. You might say we built a closet of separates:
Yourthoughtpartner.com (the old version). The main site for The Grossman Group. A diligent and motivated site visitor could learn everything they needed to know about us, but should people really have to work so hard to know who we are, what we stand for, and what we're thinking and doing? Probably not.
YouCantNotCommunicate.com. The main site for my new book. I couldn't be more excited about the launch of my new book, but it felt more like a stand-alone site, rather than a part of the unified work of The Grossman Group, and a natural extension of our consulting.
DavidGrossman.biz. As many of you know, I speak, I teach, I lead workshops, and more, so it made sense for people to find out about me apart from The Grossman Group. The only problem is that The Grossman Group is an important part of who I am. I am proud of my leadership and my team, and how can you really get me if you're not getting those other details?
Now you'll be able to find the same resources that had been scattered over three sites in one single place. In a single visit to the new yourthoughtpartner.com, you'll be able to:
Get to this blog, read it, comment on it, sign up for an RSS feed, and even share your favorite posts via social media.
Get You Can't NOT Communicate. If you're not convinced you want your own copy yet, look inside the actual book, read what people are saying about it, and wander around the complete site to get a sense of the proven differentiators for leaders.
Browse through our free leader resources. We've got lots of great free content for you up on the site, and we'll add more and more in the months to come. More ebooks, more assessment tools, helpful videos, and, of course, lots more blog posts.
Learn everything you ever wanted to know about The Grossman Group and more. About our services. Our team. Our clients. Our design portfolio. And how we can be your thoughtpartner.
As The Grossman Group enters its 10th year of helping leaders become better communicators and drive better business results, we are turning
yourthoughtpartner.com
into a destination for leaders, communicators, and those who want to be leader
communicators
. I hope you'll visit the site regularly, download our ebooks, read the blog, and share your thoughts! - David Grossman