April 22, 2010
The Power of "Thank You": An Internal Communications Superpower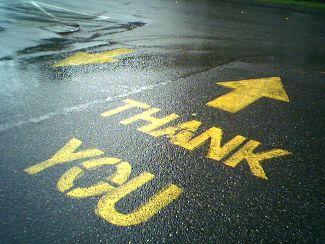 I try to practice what I preach as much as possible (although I admit that, at times, it's easier said than done). One thing I can do easily, however, is make a point to thank people who have gone out of their way to help me in one way or another. The nice thing about showing appreciation is that it's not only easy and important, it's also free!
Apparently this has been on my mind because I noticed it's shown up in a couple of my recent tweets:
Boarding my flight to SFO. What's happened to common courtesies? Excuse me & please sure can go a long way! How about, thank you!?
RT @weeklyleader Saying "Thank You" is a great way to maintain a positive attitude. Who have u thanked today? (via @eaglesflite @LeadToday)
Over the last week, I've been the recipient of quite a bit of good will from several members of the communications industry.
I recently spent quite a bit of time working on our first e-book, "The Leader Differential: Five Steps to Thrive (Not Just Survive)," and a number of people helped me spread the word about it by posting about it on their own blogs, sharing it with their contacts, or inviting me as a member of their networks so I could post about it myself. As a result, our website has seen record traffic and hundreds of e-book downloads. These posts not only contributed to our success, but also help spread the word on how all of us can get better. After all, if you follow me on twitter, you know that I consider good communications skills a superpower-right up there with flying!-due to all the good it can do. (I always thought if I were a superhero, I'd use my powers to make a difference. But I digress...) All of that is to say, I want to take a moment to thank those people who helped spread the good word:
Leading Blog
Wow, what a fantastic resource. Leadership Now and its Leading Blog are run by Michael McKinney, who believes that "Leaders think differently. They see the world differently. We all possess the capacity for leadership, but only those who cultivate it will ever become truly effective leaders." I couldn't have said it better myself, and I very much appreciate his endorsement of my e-book.
Culpwrit
Ron Culp, Partner and Managing Director of Ketchum, and PR guru, mentor, and all-around-great-guy, recently offered me the opportunity to contribute to his fantastic public relations blog, Culpwrit. My post on listening went up today if you want to check it out: "Listen Up: Career Acceleration Strategy"
Management 3.0
Run by the impressive Jurgen Appelo of Noop.nl (who, according to this blog post, definitely has own superpowers-or maybe just a lot of coffee). This is a fairly new, but already-thriving, community that serves leadership and management professionals. I was able to get in on the ground floor when I put up my first blog post on Monday. I've already received enough traffic to know that the community is engaged and active. I highly suggest you get involved!
Employee Engagement Network
Home to a community of 2,322 leadership and management thought leaders, there is no lack of good company at the Employee Engagement Network. I actually discovered this network pretty recently, but I've made up for last time by diving into the archives and even posting some of my own content. Not surprisingly, my most recent post was about the e-book, but I suggest you start by reading the post (and comments) where some of the community's intriguing members offer you their twitter handles.
Blogroll
To the right of this blog post, you'll see that I've started a blogroll. There are so many great leadership and management blogs out there, so this is just the beginning. But I do encourage you to check these ones out if you're looking for good advice from the industry's great minds., and share any of your favorites, too.
--David Grossman