June 8, 2010
Advanced Internal Communications: IABC World Conference 2010, Toronto, Canada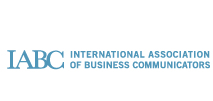 If there's one thing that the
IABC's International Conference in Toronto
this week pointed up, it's that no matter the country or the language, organizations need good internal communications. With over 1,400 communications professionals in attendance from 40 countries, the conference offered unprecedented perspective on the latest and greatest best practices from the communications world. Of course, I'd like to think that I added to the discussion with my workshop on "The Communication Leader as Coach." But I also listened to what others were saying.
So what were my major takeaways when it comes to best practices in internal communications for 2010?
We need to take care of ourselves and help our teams develop, too. (That's why we love the QuickAssess tool that we have here at The Grossman Group—it helps you manage and develop your team in a way that allows you to be a better leader, more efficient and, as a result, less stressed! What better way to take care of yourself?!)
We must bust the myth that "we don't have time to communicate." It's a choice not plan! Since you're communicating whether you intend to or not, you might as well get good at it. Plus, communicating effectively will save—not cost—you time in the end.
Real connections are important—especially with the rise of social media. We follow leaders because of how they make us feel, and social media connections will never be a substitute for a real relationship.
As leaders, we need to regularly assess our beliefs and assumptions, and possibly change them. We must be open to learning and growing, and have humility around what we know, and what we have yet to learn. Ray Kroc said it best: "When you're green, you're growing; when you're ripe, you rot."
Internal branding is not just about sharing your advertising and marketing plans with your employees. It's about getting employees to advocate on behalf of your brand so you deliver on your brand promise. It's about driving the behaviors needed on the inside to deliver on the Brand promise.
With limited resources and in a time when we are all being asked to do more with less, we must seriously assess where we're uniquely qualified to turn strategy into action and drive business goals, and then ruthlessly prioritize our work. At the same time, we have to empower our team members to stand up for themselves in conversations with leaders. The reality is that limited resources and more pressing priorities also mean that some work simply won't get done—employees can only be stretched so thin.
What's your latest and greatest tip for exceptional communications?
- David Grossman
_________________
Subscribe: the leadercommunicator blog delivered to your inbox!
Get high level tips on engagement and connection, insights into employee motivations and behavior, and firsthand stories from the frontlines of America's leading companies—delivered directly to your inbox.
Subscribe >>