June 22, 2010
Free e-Book: "Going Slow to Go Fast: Making Internal Communication Work for You"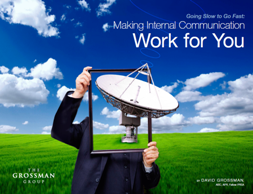 Keeping in mind that making the business case for internal communication is one of the biggest challenges today's communicators face, along with knowing how to be most effective at their jobs, I compiled an overview of the best practices in internal communication into a single e-book.
Going Slow to Go Fast: Making Internal Communication Work for You
is a single, high-level, go-to resource for communicators who want to build a strategic, streamlined, and effective internal communication process that speaks directly to the number-one question for business leaders: How will this improve our company bottom line?
Going Slow to Go Fast walks communicators through the core challenges of today's business environment. With an eye to issues of culture changes, job uncertainty, technology, and more, all of which can undermine corporate stability and cohesion, I show communicators how good messaging can reassure and engage employees to make them feel connected to business success.
Going Slow to Go Fast reveals the important role that company leadership has in engaging the entire workforce-and the essential facilitating role communicators must play in order to ensure this is done right, and well.
Above all, Going Slow to Go Fast shows communicators what employees really need to know and feel in order to be productive and engaged, and even offers a step-by-step plan for implementing meaningful, game-changing communications.
I'm proud to have packed so many of the essentials for internal communicators into one resource, and I hope you'll download it so that you can read it at your own pace and even highlight the most useful parts. And, of course, I hope you'll share it with your colleagues and friends.
Do you have more thoughts on best-practices for internal communication? Has your team developed some great tactics for implementing or measuring communication success? I hope you'll share your thoughts!
Our monthly newsletter will help you add even more value to your organization!
Get the latest insights and best practices on leadership communication from the experts, delivered conveniently to your inbox every month.
Sign up today >>