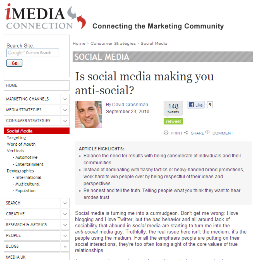 As you all know, I have a love-hate relationship with social media. In my latest article for iMedia Connection, I dive in deeper to the phenomenon that is turning me into a curmudgeon.
Some highlights from the article:
Balance the need for results with being considerate of individuals and their communities
Instead of dominating with flashy tactics or heavy-handed brand promotions, work hard to win people over by being respectful of their ideas and perspectives
Be honest and tell the truth. Telling people what you think they want to hear erodes trust
So how do you master social interactions to build trusted relationships online?
Read the rest of this article at: http://www.imediaconnection.com/content/27618.asp
- David Grossman