December 21, 2010
The Grossman Group Named Finalist for PRWeek's Boutique PR Agency of the Year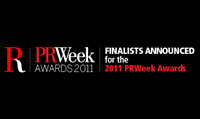 We just got some exciting news: We're a finalist for PRWeek's Boutique PR Agency of the Year. The winner will be announced at an official ceremony on March 10, 2011 in New York City. We're humbled that this is the third time in 10 years that we've been a finalist, having been named Boutique Agency twice.
That said, we don't do what we do for an award. The team of thoughtpartners and I are in it for the work, which we love and feel privileged to do. The recognition of being a finalist sure feels terrific, and it gives us something else to celebrate at The Grossman Group.
One of my New Year's resolutions is to take more time to celebrate in 2011. I often suggest to clients to keep a running list of successes large and small. If you keep a small journal at your desk, it's easy to keep track of what's going well. Documenting the steps forward, what we're appreciative of -- and the big wins, too -- help us keep work and life in perspective. And it sure can feel terrific at a low point during a week to review what you've accomplished, which can provide just the inspiration needed to press on.
I'm not a fan of the New Year's holiday, per se. I much prefer an early night in with Steve and Avi. Most years, I've been sleeping for a few hours when the ball drops in NYC. However, I do take the time during the final weeks of the year to reflect on the year that's coming to a close and begin to envision what I'd like 2011 to look like.
I will celebrate more in 2011, and will take more time to savor each success -- big or small. I have much to be grateful for, and excited about all the possibilities ahead.
What's a learning you have from 2010, which you'll take into 2011?
- David Grossman
Subscribe: the leadercommunicator blog delivered to your inbox!
Get high level tips on engagement and connection, insights into employee motivations and behavior, and firsthand stories from the frontlines of America's leading companies—delivered directly to your inbox.
Subscribe >>