June 7, 2011
More Great Communication Strategies…More You Can't NOT Communicate… Introducing You Can't NOT Communicate 2!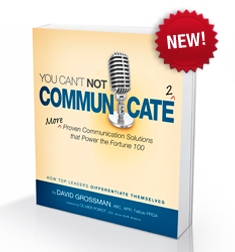 Sometimes you don't know if something's going to work out until you try it. That was the case with my first book, You Can't NOT Communicate.
Over my nearly quarter century in communication (I swear I'm much younger than that makes me sound!), I had gathered a wealth of insights, strategies, specific cases, and other material that I thought might be interesting to leaders and communicators. I hoped that my knowledge and experience might be helpful to clients and maybe a few other interested readers. Little did I expect that so many people would respond so enthusiastically! By the end of 2010, You Can't NOT Communicate was in its second printing, and I realized that there was a real hunger for helpful, practical advice about becoming a better leader through communication.
As it happens, my first book was only the beginning, and today I am incredibly proud to announce the launch of You Can't NOT Communicate 2: More Proven Solutions That Power the Fortune 100.
Because the reality is everything you do communicates something, whether you intend it or not. The most effective leaders choose to make the most of their communications, and recognize that virtually all problems in business today lie in the absence of effective communication.
In You Can't NOT Communicate 2, I cover:
The Se7en Deadly Sins of Leadership
Motivating and engaging with Millennials
Mastering Messaging
Engaging hard-to-reach employees and holding them accountable
And many more issues that challenge today's leaders and communicators.
Learn more and preview the book at www.yourthoughtpartner.com/book.
And coming later today, I'll be announcing a contest for leaders and communicators—you could win copies of You Can't NOT Communicate 2 for your entire team! Check back in later for all of the details…
I'll also be Tweeting all day at www.twitter.com/thoughtpartner, where I'll be calling out communication fails and highlighting the fixes. I hope you'll join the conversation with your on fails and fixes, and we'll be giving away copies of the book throughout the day!