July 20, 2011
"Watch List" and "Watch Outs" for Internal Communications
Last week, we held our most recent ThinkTank at our office. This is an invitation-only forum we host where the content and topics are generated by participants. It's a discussion for senior-level communicators by senior-level communicators.
The passion and energy for communications as a strategic business driver was evident as we covered everything from driving an employee-centric culture to creating employee ambassadors, from breaking through with creativity to training leaders and managers to be better communicators, among other topics. There wasn't an issue or challenge where we didn't have some terrific experience at the table.
We started the day by covering what we're seeing in the industry. It turned into a terrific "watch list," of sorts, or in some cases, "watch outs!":
With some signs of economic up-turns (hopefully!), there's a fear that companies will see "brain drains." The best talent may be lured away with new employment options, leaving companies to face the real threat of lost human capital and high turnover expenses.
While organizations may always be in growth mode, the irony is that few Communications functions seem to enjoy the same spirit of growth. The downside is communicators can't be as specialized as they could be, and often remain in reactive mode, flexing to immediate needs. However, this also presents an opportunity for communicators to gain focus and choose wisely their areas of focus so they can demonstrate clearly their value and results.
With a continued focus on cost-cutting in these uncertain times, employees remain skeptical; many come to work only for the paycheck. While some companies buck the trend, overall allegiance to an organizations is weaker than in the past and engagement is down overall. (See Item #1 for reasons why some employees may leave.)
24/7 availability and the expectation of immediate responsiveness are making a mark (for the worse). The time-space compression is impacting work-life balance, morale, and overall engagement for employees (not to mention some communicators who feel the pressure like everyone else and who are also the messengers of tough news).
There's a growing need to be able to say "no" to requests for assistance given limited resources and time. This has prompted many communicators to develop service-level agreements with leadership as a way to a "better yes" for both internal clients and communications teams, and a way to stay focused on work that will most positively impact the business.
Selecting and managing the proliferation of vehicles for employees continues to be challenging (including traditional, electronic and social media); employees are bombarded with information and crave meaning.
Questions remain on the table: "What role will social networks have in managing relationships with employees? Is email on the outs once and for all?"
Beware of rogue communicators. More organizations are seeing business units and leaders hiring their own communications employees rather than working with Internal Communications teams. This causes angst, confusion and misalignment, and limits being able to use precious resources efficiently.
Many communicators have been in the trenches for so long that even they need to come up for air and skill-building. There's an ongoing need to increase the competence of the professionals in internal communications, many of which have moved into the function with varied backgrounds and limited experience, or simply haven't had the time or resources to elevate their skills or understand what's happening elsewhere that might apply to their organization.
What are you seeing? What's on your "watch list" or "watch out" list?
- David Grossman
___________________________________________________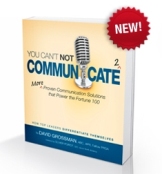 Click here to get your copy of You Can't NOT Communicate 2 now!