August 16, 2011
And the Winners Are….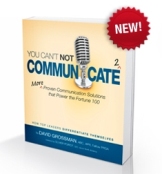 As readers of this blog will know, with the launch of You Can't NOT Communicate 2 in June, I also kicked off The Great You Can't NOT Communicate 2 Giveaway. I invited all of you to share your communications challenges—and to tell me why your organizations need help—to win copies of the book for you and your team. Many of you shared your stories, and with so many well-communicated (you are communicators, after all!) submissions, it wasn't easy to pick just one winner. So we didn't. In the end, we narrowed it down to two winners and three runners up. Many thanks to all of you who entered!
Our runners up:
And our winners:
Jerry Taranto heads the Public Affairs team for the 81st Training Wing, US Air Force, managing 12 permanent employees and a $1.3 million multi-media contract. Right now, his team plays a supporting role for External Communication department's communication efforts to stakeholders (which includes up to 15,000 people who live and work at Keesler Air Force Base, including civilians, contractors, retirees, congressional reps, etc.).
Jerry's communication goals:
To make sure that "each hand knows what the other is doing" when it comes to communication across and among departments.
To place his team at the center of organization-wide communication, helping "cross-pollinate" good ideas and becoming the go-to group for sharing and communication.
To help his team become a role model for strategic communications within his entire department to increase organization-wide communication effectiveness.
On the other side of the pond, Andrew Stephenson, Operations Director at Teleperformance, is experiencing firsthand the challenges and opportunities that lie in a large organizational merger. Less than a year ago, he was working for an entrepreneurial outsourcing company, but six months ago this company was purchased by the largest outsourcing company in the world—Teleperformance. Now the Operations Director for Scotland, Andrew is responsible for 3,000 employees across five sites, whereas a year ago he was heading 400 employees on one site—talk about an opportunity to create communication change!
Andrew's communication goals:
To create a successful team within a new corporate culture, who has an even bigger need to deliver global profits for shareholders.
"To create an internal communication strategy that leads and engages teams in delivering profit forecasts for 2011 and 2012 through influencing the staff to understand, accept and adopt the expectations of the new culture of a worldwide company."
To improve employee engagement across sites.
To help his staff understand the benefits of being part of the large company, to effectively communicate the how and why of behind strategy, and the longer-term benefits of being part of a global corporation.
We're sending out copies of You Can't NOT Communicate 2 to our winners' teams, and if they're willing (no pressure, gentlemen), we'll check back in with them in a few months to see how their progress toward their desired goals and outcomes.
Best of luck to Jerry and Andrew, who are facing real-world communications challenges head-on, which many of us know is no easy task. The tips and tools I provide in You Can't NOT Communicate 2 will help align—and hopefully inspire—your teams to create engaged cultures and help drive business success.
Thank you again for sharing your stories, Jerry and Andrew, and many thanks to all of you who shared yours as well!
Are you using You Can't NOT Communicate to help conquer communication challenges? If so, we'd love to hear your stories, too.
- David Grossman