November 30, 2011
How in the World Are You Doing? – Part 1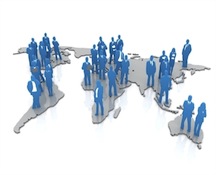 Part 1: Create relevant global-local communications by understanding your employees.
We often say that all community relations is local. Today, all business communications is local, too.
I become reflective at this time of year. I like to take a big picture look at what we've accomplished, and what (if any) trends we've seen in our client work. One trend I've noticed, of several this year, involves our clients' proactive approach to understanding what motivates and resonates with their employees who are in locations around the world. We consistently talk to clients about the need to listen to employees prior to committing to a final strategy or plan. I'm thrilled that we've been a part of many global listening initiatives, and I'd like to share some key learnings and considerations that we've gathered.
The need to listen may sound obvious, but it's far from common practice. Yet, in the listening lies the answer to so many questions about how to effectively reach global employees with the information they need to do their best work and advocate for your brand.
Take an audience-focused approach to communications planning:
Start with the end in mind
The most important element of planning a communications effort is to start with the end completely in mind. Upfront planning with the project team and key organizational and business unit leaders to reach agreement on overall outcomes and what dimensions of performance you want to measure is critical. This agreement sets into motion the entire research program.
Think ahead to results reports
There's nothing worse than completing a research project and hearing a leader say, "I wish we would have had information on…," or "Could I get a report on my unit too?" and not have enough or the right data to address the need. Think about all the stakeholders as well as the employee voices you'd like to hear and share outcomes with your leaders before you start define the research parameters.
Plan research meticulously
With the outcomes in mind, next you need to determine specific research methodologies. Typically a dual approach of qualitative and quantitative research is required.
The qualitative (i.e. focus groups or in-depth interviews) can give you general themes and texture around key topics as well as identify important factors for quantitative research. Setting up the qualitative research appropriately is critical. You will spend too much time implementing an ill-conceived plan if you ask the wrong set of questions initially.
Secondly, qualitative research is an effective way to inform and plan strategic quantitative research that will enable you to understand the hearts and minds of all employees and know how to connect with them – literally and figuratively – through communications.
Quantitative research provides statistically reliable data that can be generalized across the employee population or segmented to diagnose regional or local biases. For example, we regularly work with our research partner, LCWA Research Group, to implement a survey instrument called the Internal Communication Climate Index™, that studies the multiple dimensions that impact employees' perceptions of internal communications effectiveness, including:
their ability to relate to the overall mission and purpose of the company
their ability to advocate on behalf of the company/brand
how information flows (vehicles and messages)
leadership communication
supervisor communication
The bottom line to understanding and engaging a global workforce is to take the time to understand all their information needs and pair them with your business objectives. Follow these research recommendations and your internal communications strategy will reveal itself to you.
What communications trends are you noticing in your organization?
- David Grossman
Read the next post in this two part series here.
____________________