December 7, 2011
How in the World Are You Doing? – Part 2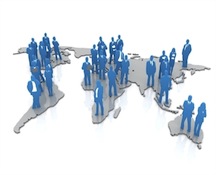 This is Part 2 of the How in the World Are You Doing? series. Find Part 1 here.
Using research to understand hard-to-reach employees
Understanding the "hard-to-reach" employee is a hot topic these days. Many organizations have them – they're your front-line employees on the production line, call center employees, sales force, in the field, or other employee groups who play a critical role in the organization's success. But due to time, technology or role constraints, they aren't always able to access the "push" communications such as email, that often come from corporate offices.
No matter how hard it may be to reach them, organizations must make it a priority to include front-line employees in their measurement efforts. It is vital for a complete assessment of employees' communication needs since how they want to receive information may vary greatly from wired employees.
Some of the tried-and-true avenues used to best reach the hard-to-reach employee base are:
Hard copy surveys translated into local language
Computer stations or kiosks that are easily accessible in employee lunch rooms or break areas
In addition to using trusted communication vehicles to communicate with hard-to-reach employees, consider these tips when developing your communication strategy:
Offering incentives to encourage participation
Talking to supervisors - or employees directly - to understand how to reach a set of employees
Engaging leaders of those you want to survey to drive awareness and participation (their endorsement means a lot)
Do not discount the information needs of hard-to-reach employees. Because of their diverse, often non-wired positions, leaders should make it a high priority to ensure hard-to-reach employees understand the company vision, and can articulate it in a role-appropriate way to your customers.
What steps are you taking to meet the needs of your hard-to-reach employees?
- David Grossman
_____________