January 4, 2012
Your "Improve The Workplace Diet" for 2012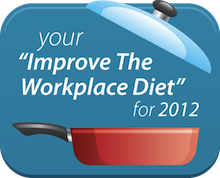 As many of us are making resolutions for the New Year – whether to get in shape, complete more tasks on the Bucket List, or lose those holiday-induced pounds – I thought it would be helpful to share a different kind of diet for the New Year to address no less weighty challenges. This one is for the workplace.
The Workplace Diet is designed to help conquer confusion, apathy, lack of motivation, and the increasing cost of ineffective communication. There's no celebrity spokesperson or meals to buy. No magic pills to take. Just some simple yet powerful actions that can make this year your best year yet. And your employees and family will thank you for it.
Here's the skinny on The Grossman Group 2012 Workplace Diet:
Share your expectations – People rise to the expectations set for them. Create a list of your expectations and share them with your staff. Be as specific as possible so people know exactly what you mean and what you want to see. When your expectations are met, say something to reinforce the positive behavior. Otherwise, give feedback and coach around alternative behaviors you want to see.
Plan your communications – If you take a few minutes to plan your communication strategically (instead of wing it), you will be more purposeful, and increase your chances 100-fold of being effective.
Listen more – Stop talking so much. Really. Look directly into people's eyes. Relax and breathe as you listen. Resist the urge to jump in.
Ask for input and feedback – Resist the urge to ask closed-ended questions, which shut down communication. Instead, ask open ended questions: "Help me understand how you are thinking about this?" or "What ideas do you have to resolve this?"
Take action on employee suggestions – The action might be to loop back with the employee to share appreciation for their thoughts, and help them understand why you're not implementing their suggestion for an alternate approach. The action is closing the feedback loop, which can be as worthwhile as implementing a suggestion an employee has. Both tell the employee that he or she has been heard and input was valued.
Show you care – Find out what's important to your employees on personal level and remember that information.
Empathize (more) – Pause and imagine how someone else is feeling. Learn how to make a reflective statement, which validates someone else's feelings and shows you care. The workplace needs more humanity and less BS.
Share recognition and appreciation – Say "thank you" for a job well done with specific details about what you appreciated. Reinforce what you want to see more of.
Ensure your employees can articulate how they fit in – All employees want to know that they're contributing to something larger than themselves. Talk with your employees to ensure they can articulate how they specifically contribute to your goals, and the goals of the organization. If they can talk about it, they're more likely to feel connected to the organization and be engaged.
Measure your efforts – Most of the clients we work with have a number of in-house tools such as a 360 or employee engagement survey where you can get data on how you're doing and where to focus your efforts. Alternatively, you can ask your staff: "What 2-3 things can I do this year to make me more effective in how I communicate with you?" Or, give them the list above as thoughtstarters.
So that's your get in shape plan.
Research shows that making change stick is best done in small steps. That's why each month this year, we'll feature one of the essential elements of the 2012 Workplace Diet. Pick one component to work on yourself each month, or diet with us.
We're here to support you every step of the way.
- David Grossman