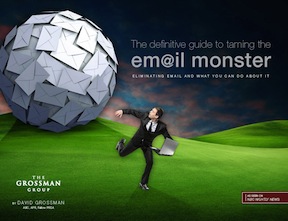 Workplace email. It's out of control, causing problems for employees and employers. So why do we all put up with it? It turns out that not everyone is.
The world's leading companies—along with businesses of all sizes and stripes—are deciding enough is enough, and taking steps to curb the overuse and abuse of work emails in their organizations. Thanks to employees who are more stressed than ever and companies looking to cut back on unproductive hours, it's a trend that's capturing global attention.
This month, I took on the issue on NBC Nightly News, and I released a new free ebook, The Definitive Guide to Taming the Email Monster.
I also share tools and strategies for managing email in your workplace, and explain when it makes sense to use email--and when we should take advantage of the myriad other communication tools at our disposal.
Watch the clip and download (and share!) the ebook to learn what it takes to manage email in your workplace to deliver better work/life balance, improve morale and productivity for everyone.