March 6, 2012
It's Back… And Even Better: You Can't NOT Communicate, 2nd Edition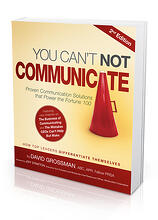 You know when you think you're not saying anything because you're literally not saying anything? Hard truth here… It doesn't work that way. The ever-present reality is that even a lack of communication is a kind of communication. And sometimes saying nothing is worse than saying something.
It comes down to this: If you're always communicating something—even when you think you're not—doesn't it make more sense to be mindful of communication at all times? To take charge of it, own it, plan for it, and ensure that people are hearing, interpreting, and understanding the way you want them to?
That was the simple logic that inspired me, in the summer of 2009, to sit down and start writing the very first pages of the original You Can't NOT Communicate.
Now, more than two years later and two books later, I'm really excited to announce the next step: The new 2nd edition of You Can't NOT Communicate, filled with even more helpful resources for leadercommunicators.
You Can't NOT Communicate, 2nd edition features:
A new foreword by Jeff Stratton, Executive Vice President and Worldwide Chief Restaurant Officer of McDonald's Corporation. Stratton focuses on the importance of good communication to everything McDonald's does, from motivating employees to offering outstanding customer service.
Expanded content. I look in depth at the business of (and business case for) communicating, and guide CEOs through the process of communicating their strategic plan to achieve their ideal outcomes.
You Can't NOT Communicate doesn't demand your undivided attention or a significant block of dedicated time. Each book is designed to be an accessible, easy reference guide. I encourage you to get straight to the issues that are challenging you now, or give yourself a course in communications over the course of several weeks or months, as you advance on your path to becoming a great leadercommunicator.
I hope you'll dive into this new edition (and partner it with You Can't NOT Communicate 2, which offers even more solutions developed and practiced on the front lines of America's most successful companies), and share your thoughts and responses with me.
How have you grown as a leadercommunicator? What issues continue to challenge you? Where could you use even more direction? Your questions might just be the inspiration for You Can't NOT Communicate 3.
- David Grossman
________
Are you tapping into the power of your internal brand?
Click the link below to sign up for David's back-by-popular-demand webinar this Thursday, March 8!