August 22, 2012
Guest Blogger Kayla Ellsworth: N.T.G.I.C!

As a millennial in The Grossman Group office I've gotten a kick out of the reactions to our recent Caddyshack post and all the great commentary that followed.
I must admit, while I think I'm pretty familiar with Gen X and Boomer frames of reference, there were a few – such as "Mad Max," "Mannix," and "Short Circuit" – that I'd never heard of.
So I had to laugh after this great frame-of-reference dialogue we've engaged in about being so "in" and "out" of touch with our peers in other generations…
My 12-year-old sister and I have had some conversations lately that've made me feel just shy of about 100-years-old [she doesn't remember VHS videos, Destiny's Child (apparently in her world, Beyoncé is new to the scene), floppy discs and TVs that weren't flat…]
And last week when she texted me happy birthday, naturally, my eyebrows furrowed as I didn't understand for the life of me what she was talking about [never mind the strange 'signature line' all 12-year-olds' text messages have, which I also don't get]…
This is what she said: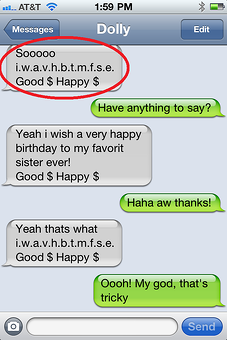 Don't feel bad if you're confused, it took me a while too. Text #1 translates into text #3 in the chain.
Sounds a little ironic to say, but my first reaction – when the translation sunk in – was: "Now this generation is crazy!"
Sound familiar?
Or should I say, "n.t.g.i.c!"?
I talked to my sister and turns out, it's not so uncommon to stretch beyond the "LOL" and "OMG" that Millennials – yes, we're the root of the problem – coined back in the early 2000s, and turn any phrase into an acronym.
Why? "It's fun," she said.
Regardless of how bad I didn't want to accept, "It's fun," I guess that would have been my answer in 2000 when I was IM-ing "omg, lol, ttyl" to my friends. Who knew it'd catch on?
My takeaway: We're in an age where it goes beyond Millennials. Boomers and Gen X-ers shouldn't feel too bad.
Looks like even I've got some research to do…
With a background in social media, marketing, and public relations, Kayla serves as Marketing Senior thoughtpartner™, coordinating key marketing efforts for The Grossman Group. She also works with the client service team, providing account support for many of the firm's Fortune 500 clients.
____