September 25, 2012
21st Century Communication: Principle #1--Character Is a Differentiator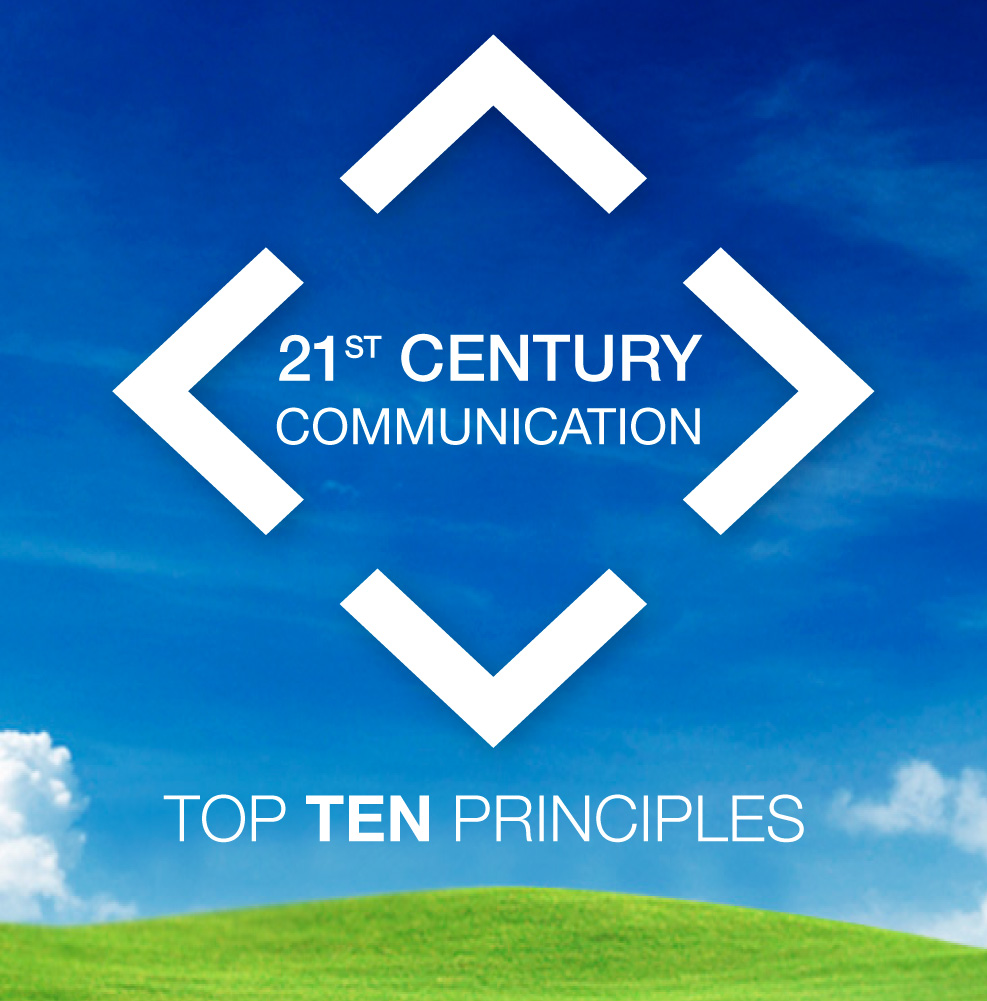 In our 21st Century business world character is a key foundational principle and a differentiator – for individuals and organizations. To me, character is all about trust.
Whenever I think about character I'm reminded of the Abraham Lincoln quote: "Character is like a tree and reputation like a shadow. The shadow is what we think of it; the tree is the real thing."
As leaders, we need to sync up character and reputation so our organization behaves in ways that are consistent with its values.
What not to do
Earlier this year we saw a "great" example of how character went wrong – the now famous saga of Goldman Sachs employee Greg Smith resigning in a New York Times op-ed. The "toxic" environment he described suggested that – from where he sat – leaders weren't role modeling Goldman's values day-in and day-out for employees.
The cost to Goldman was $2.15 billion lost in market value – in one day.
Matching up the shadow and the tree of our organization is possible when we focus more closely on our actions and then follow with words, not the other way around. Actions speak louder than words, and your team isn't moved by hearing you talk – they get motivation from seeing you exhibit the behaviors you want to see from them.
Best-in-class example
IBM offers a best practice example of this principle at work, taking the concept of brand promise a step further.
They're taking a collective view of managing all the disparate parts that influence brand promise, changing the way they work and organize themselves internally so that the entire organization is focused on delivering the brand promise.
To achieve that goal, IBM created a new communication discipline in a program called IBM Brand System combining brand management, employee engagement, human resource management, internal communications and external communications.
As Jon Iwata, SVP of Communications, described it, "To really activate the System, you go from managing expressions and manifestations of the company – visual identity, naming conventions, messaging, design and the like – to the behavior and performance of people. This Brand System is necessarily inclusive of corporate culture. And that means that the System cannot be activated without close collaboration with other parts of the company – from sales and service delivery, to product engineering and HR.
"So, the fusion of brand and culture. As you can imagine, classic communication and classic marketing have a role here. But this is fundamentally not about messaging or engagement. This work requires management rigor, which is why we believe it deserves to be – and must be – a new discipline in its own right."
What you can do
Employees want leaders and organizations they can believe in. Building trust and building character, like anything, takes work. And the results are well worth it.
Here are key steps you can take today to make character a differentiator for you and your organization:
Recognize that building trust takes hard work – and commit to earning it
Lead with a sense of purpose
Be authentic, honest and supportive
Align your words and actions
Commit to follow through
Be consistent
Model the behavior you seek
Build in accountability
How might character be a greater differentiator for you?
-- David Grossman
_____
Visit The Grossman Group's CEO Ultimate Resource Center to get tools and strategies for leadership. Click the link below.