October 9, 2012
Get the New Free Ebook! The A List: The 17 Most Read, Most Commented On, and Most Thought-Provoking Lists for Communicating Your Way to Great Leadership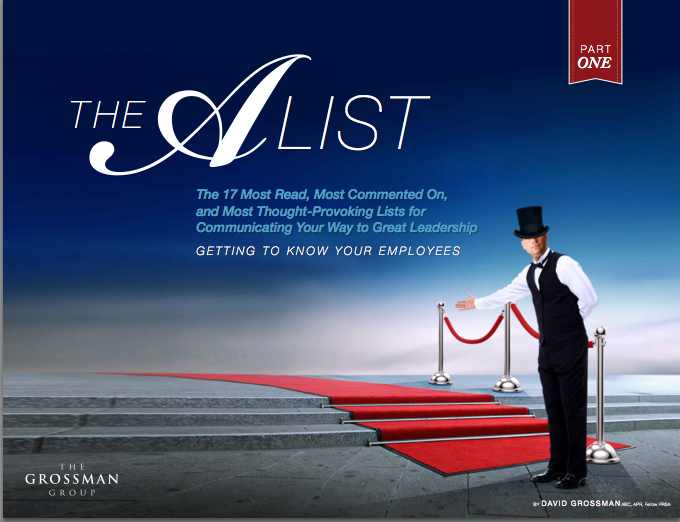 Who doesn't love a list? Simple, concise, efficient, lists are a great way to put all the important information in a single place for quick reference and to help us avoid distraction. They help us remember (think grocery and laundry lists), keep us organized (I always have a to-do list at my side at work so that nothing slips between the cracks), and give us direction (that same list helps me know how and what to prioritize).
I imagine it's for some combination of those reasons that the lists I've posted on this blog have really struck a chord with readers. Without fail, my list articles have been the most popular and the most shared. And contrary to what you might expect, readers spent more time on these pages and were more likely to comment on these posts.
It's a funny thing: I created these list posts with the intention of saving readers time, yet because of their value, they ended up drawing people in and encouraging them to give more of their time. Maybe it's because lists aren't just about efficiency; they're also about keeping us focused.
With the value of lists in mind (and out of respect for your wisdom, dear reader), I've created a highlight reel of sorts for my list posts. I'm happy to announce my new two-part ebook, The A List: The 17 Most Read, Most Commented On, and Most Thought-Provoking Lists for Communicating Your Way to Great Leadership. Part 1, "Getting to Know Your Employees" is filled with a wealth of best practices for connecting directly with employees for an enviably motivated and inspired workforce. Part 2, which will come out next month, focuses on big-picture, organization-wide communication.
Each and every list is useful and practical, and offers up tips and strategies that can literally be put into practice immediately. All give leadercommunicators a clear path to communicating better to become better, more effective leaders.
Read the next post in this two part series here.
___