December 3, 2012
Workplace Diet: How Is The Workplace Diet Improving Your Business Results?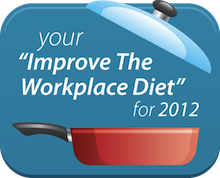 In January, as many of us were making resolutions to lose holiday-induced pounds, I invited you to join a different kind of get-in-shape plan – the 2012 Workplace Diet. As your personal trainer, we've been here to support you every step of the way.
Over the course of the year I've used this space to share practical tips and techniques to help leaders conquer confusion, apathy, lack of motivation, and the increasing cost of ineffective communication. We addressed key areas to help you as a leader elevate your communications and make 2012 your best year yet.
As 2012 begins to wind down, let's review where we've been. This year, I offered tips to help you:
It's been a great year, and regardless of whether or not you had too much of Grandma's pie at Thanksgiving my 2012 Workplace Diet is one weighty resolution every leader can keep. I know you can do it.
Keep learning, keep practicing and stick to this Diet 2013 and beyond.
So, how are you doing? Which component made the biggest difference for you? Which one will require more work?
----------
Want more communication and leadership tips?
Download The A List Part 1: The Most Read, Most Commented on, Most Thought-Provoking Tips for Communicating Your Way To Great Leadership