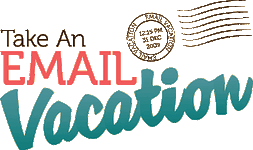 I'm turning off my email again this vacation. How about you?
It worked on my last break – once I got past the initial angst. It was hugely liberating, and allowed me to focus on what was most important – quality time with my family and re-charging.
I talked with The Globe and Mail this week about my plans, and strategies anyone can use to turn off email. Cold turkey might not work for everyone, but you never know until you commit to it, and try.
What are your plans to step away from email this holiday season?
-----
Want more strategies on how to disconnect from email? Download The Em@il Monster eBook today!