April 5, 2013
In Case You Missed It: Best Leadership & Communication Posts of the Week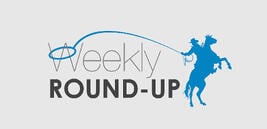 Welcome to my weekly round-up of top leadership and communication blog posts. Each week I read and tweet several great articles and on Friday's pull some of the best together here on my blog. So in case you've missed them, here is this week's round-up of top posts.
They'll provide you with tips, strategies and thought-starters from many of the smart folks in my network. So whether you're a new leader or an industry veteran there'll be something here for you.
The Power of Small Stories
By: Richard Andrews via The Todd Nielsen Blog
Small Stories are flying round every organization every minute of every day. Like mosquitoes over a lake in summer they get everywhere: in the corridors, the restrooms, the stockroom and the kitchen…
11 Reasons Why People Are Uncomfortable Leading
Here are 11 reasons people are uncomfortable leading. Do any of these look familiar to you? Are you comfortable where you are? Get uncomfortable and lead…
By: Julie Winkle Giulioni via The Lead Change Group Blog
Have you noticed how frequently the word 'coaching' is used these days? You don't read an article, attend a leadership workshop, or even speak with managers without 'coaching' being generously referenced. It's used to describe the act of…
How A Culture of Appreciation Develops Engaged and Loyal Employees
By: Margy Bresslour via the Switch and Shift Blog
Do you look forward to going to work? Do you feel valued and appreciated by your employees or employer? If you work by yourself, do you feel seen by others? If you answered, "no" to any of the above, you're not alone…
It Takes Leaders to Be a Community
By: Jon Mertz via The Lead Change Group Blog
Yes, it takes a community to be a leader. There is another side to the equation, too. It takes leaders to be a community, to empower a community…
7 Ways Transformational Leaders Are Different
Some leaders are…different. They have this certain something that resonates with us, and that certain something may be hard to describe and will likely vary from person to person. They're not perfect, but somehow that's part of their charm…
What were some of the top articles you read this week?


- David Grossman
_________
Want leadership & communication tips on a regular basis?
Sign up for our monthy eNewsletter, today!