April 18, 2013
21st Century Communications – Employees Really Are the Greatest Asset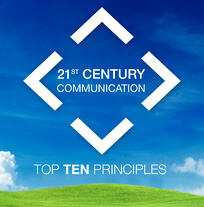 Webster's Dictionary defines an asset as an "advantage" or a "resource." In today's business world, the greatest asset of any organization is not the steel, cable, real estate or technology at its disposal.
People are the greatest asset.
Think about it this way – it's through people that the best steel, the fastest cable, the most prime real estate and the greatest technology is able to actually benefit an organization.
A vision is just a vision until someone acts on it
A strategy is only a strategy until someone acts on it
A goal is only a goal until someone acts on it
Companies that are good at building their brands know their real task is managing things people in the company do to help fulfill the brand promise.
Beyond that, employees play an increasingly important role as advocates for (or against) their organization, with a real impact on sales. Consider this:
According to the Journal of Marketing:
9% of customers are lured away by competition
68% are turned away by an employee's indifferent attitude
In the coming years, we'll see even more emphasis on the intangibles for employees and an increasing importance of the employee value proposition - set of tangible and intangible returns an employee receives from an organization in return for his or her contributions and work.
Take Zappos.com. Founder and CEO Tony Hsieh is becoming well known for his Delivering Happiness concepts which are all about customer service. The stated customer service goal is to "Wow" their customers. Zappos is typically in the Top 10 on the Fortune 100 Best Places to Work list but pay scales across the board are "just at or below the average pay scale," according to Hsieh. So what makes it a great place to work?
Zappos invests a great deal in selecting employees who fit with the culture. They invest in recruitment, training and development – and the company promotes a work-hard, play-hard culture. Employees are known to parade through the office, engage in several-hours long customer service calls and spend weekends together.
The Zappos Culture Book is the 9th version in 9 years. As stated in the book, their #1 priority is the company culture. It reads, "Our belief is that if we get the culture right, then the other stuff, such as customer service or building a long-term brand, will happen naturally on its own."
The organization creates a sense of belonging and companionship for employees. Their employees want to go to work…they get more out of their jobs than a salary.
Zappos has created a highly valued employee value proposition – and a successful company to boot.
How can you improve your employee value proposition – and your bottom line – today?
- David Grossman
_______________
Feel like you're communicating but your employees don't always hear you? Download "Can You Hear Me Now? Make What You Say Matter And Increase Your Chance of Being Heard eBook", today!