November 15, 2013
Weekly Round-Up: On Leadership, Employee Engagement & Great Meetings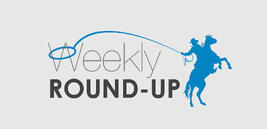 Welcome to my weekly round-up of top leadership and communication blog posts. Each week I read and tweet several great articles and on Fridays pull some of the best together here on my blog. So in case you've missed them, here is this week's round-up of top posts.
They'll provide you with tips, strategies and thought-starters from many of the smart folks in my network. So whether you're a new leader or an industry veteran there'll be something here for you.
Three Things That Actually Motivate Employees

By Rosabeth Moss Kanter, Harvard Business Review


The most motivated and productive people I've seen recently work in an older company on the American East Coast deploying innovative technology products to transform a traditional industry...
Three Dimensional Leadership
By Scott Mabry, Switch & Shift


Leadership is more than something we do or a role we play; it is a deeply human connection that engages our mind and our emotions. Because leadership requires interdependence...
5 Insecurities Leaders Have to Overcome

By Eunisse De Leon, Lead Change Group


As a leader, people naturally have high expectations of you—knowing the answer to every problem, highly reliable, calm in the face of pressure...
5 Steps to Great Meetings

By Peter Economy, Inc.


You're not alone in thinking that most meetings are a waste of time. In a survey of businesses conducted a few years ago, Microsoft found that people spend 5.6 hours each week in meetings...
What were some of the top leadership articles you read this week?
- David Grossman
___________
Looking for more tips on how to be an effective leader? Sign up for our eThoughtStarters e-newsletter, today!