December 6, 2013
Weekly Round-Up: On Leaders, Change Management, & Collaborative Workplaces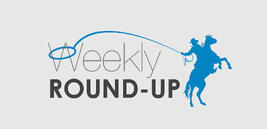 Welcome to my weekly round-up of top leadership and communication blog posts. Each week I read and tweet several great articles and on Fridays pull some of the best together here on my blog. So in case you've missed them, here is this week's round-up of top posts.
They'll provide you with tips, strategies and thought-starters from many of the smart folks in my network. So whether you're a new leader or an industry veteran there'll be something here for you.
Leaders Who Can't Forgive
By Manfred F. R. Kets de Vries, Harvard Business Review
I had a CEO in one of my leadership coaching seminars recently who seemed to be quite bitter about life. Whatever suggestion I would make, he would put a negative spin on it...

What were some of the top leadership articles you read this week?
- David Grossman
_________
Want more information on leadership and the workplace? Sign up for our eThoughtStarters newsletter today!