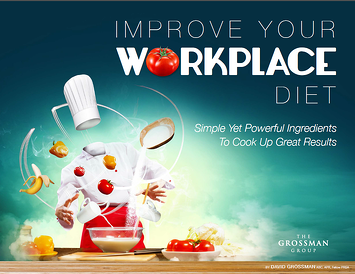 There are a lot of fad diets out there that many of us have tried, and I often hear the same thing – "I don't like diets." And that got me thinking, do all diets have to be bad and come with grueling cutbacks and hours in the gym?
I figured there must be a way for us to "get in shape"…so why not in the workplace?
It was this thought that inspired me to write The Workplace Diet eBook. The best diets yield sustainable results, and The Workplace Diet is filled with actionable tips to help you lead and communicate effectively.
Learn how to:
Clearly share expectations with your team
Plan communication so it's purposeful and productive
Become a better listener
Bring your blind spots to light and overcome them
Take action on feedback from employees
Share recognition with your team members to motivate them
Measure the effectiveness of your communication on the spot
Research shows that the key to making change stick is to take small steps. The Workplace Diet eBook is divided into bite-sized chapters, so you can pick and choose which challenges you undertake (but feel free to consume the whole eBook in one sitting, too). Combined together, the ingredients of the eBook—high-level tips, stories, and insights—form a recipe for a workplace characterized by engaged employees and strong internal communication. It's a simple recipe that yields powerful results.
Download The Workplace Diet eBook and get expert communication and leadership strategies that you'll want to make part of your daily regimen.
-David Grossman