March 7, 2014
Weekly Round-Up: On Bold Leadership & Improving Communication in the Workplace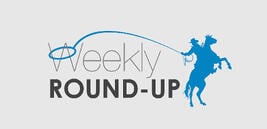 Welcome to my weekly round-up of top leadership and communication blog posts. Each week I read and tweet several great articles and on Fridays pull some of the best together here on my blog. So in case you've missed them, here is this week's round-up of top posts.
They'll provide you with tips, strategies and thought-starters from many of the smart folks in my network. So whether you're a new leader or an industry veteran there'll be something here for you.
It's Time for Your BOLDEST Leadership Ever
By Diana Rivenburgh, Switch & Shift
"In the words of Peter Drucker, "Leaders in every single institution and in every single sector … have two responsibilities…"
Succeding Through the Challenges of Originality in Leadership
By Mila Araujo, #BEALEADER
"Organizations rarely challenge how their leaders get results but focus on the bottom line instead. When things are tough and results are simply not coming through, it's only human…"
5 Tips to Fix Your Broken Communication and Build Trust
By Nan Russell, Fast Company
"Leadership is facing a crisis--trust is at an all-time low in workplaces across this country. According to Edelman's Trust Barometer for 2013, 82% of people don't trust business leaders to tell the truth.."
How to Be a Better Leader by Rewiring Your Brain
By Will Yakowicz, Inc.
"As a leader, you can't let emotions like stress, fear, or anger control your behavior. Although it takes time to perfect, there are ways to control your negative emotions and guide your responses..".
5 Reasons to Re-Examine How Leaders Communicate
By Leigh Steere, SmartBlog on Leadership
"The average person tells four lies a day, or 1,460 a year; a total of 87,600 by the age of 60. And the most common lie is 'I'm fine.'" This quote appeared in a friend's recent blog post…"
What were some of the top leadership articles you read this week?
- David Grossman
__________
Want more tips on how to be a more effective leader? If so, check out our CEO Resource Center, today!