March 14, 2014
Weekly Round-Up: On Leadership, Motivation & Millennials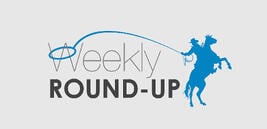 Welcome to my weekly round-up of top leadership and communication blog posts. Each week I read and tweet several great articles and on Fridays pull some of the best together here on my blog. So in case you've missed them, here is this week's round-up of top posts.
They'll provide you with tips, strategies and thought-starters from many of the smart folks in my network. So whether you're a new leader or an industry veteran there'll be something here for you.
To Motivate Employees, Apply This Scientific Rule of Leadership
By Michael Solomon, Forbes
"Coaxing a great performance from your employees requires you to get quite a few things right. Here are five…"
Finding Your Own Motivation
By Mark Lukens, Switch & Shift
"If you're just starting out in your career, or you're in the middle of changing careers, then one of the most important things you can do is to understand your own motivation…"
Get Millennials to Perform in 5 Easy Steps
By Laura Garnett, Inc.
"Leadership is facing a crisis--trust is at an all-time low in workplaces across this country. According to Edelman's Trust Barometer for 2013, 82% of people don't trust business leaders to tell the truth.."
Why the Tide has Shifted Toward Heart-Centered Leadership
By Susan Steinbrecher, Lisa Petrilli Visionary Leadership
"Heart-Centered Leadership is not a singular gold standard or an ultimate pinnacle that only a rare few can achieve. It lies in your ability to stop, go inward, and reflect on the course of action that you know…"
7 Ways to Encourage A Giving Culture
By Adi Gaskell, Adi Gaskell Blog
Culture is one of the biggest topics in business right now, and certainly has a growing role in discussions throughout the social business world. Alas, it's also one of the hardest things to nail down…"
What were some of the top leadership articles you read this week?
- David Grossman
____________
Want more information on leadership? Sign up for eThoughtStarters, our free newsletter!