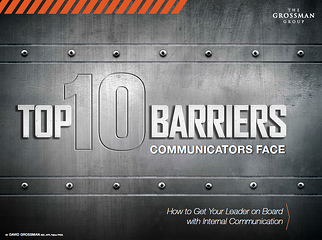 Helping leaders lead more effectively and courageously is one of the biggest challenges that today's communication professionals face.
Those trained in communication know that all the benefits that come with effective employee engagement—shared understanding, productivity, innovation, achievement of business goals—can only become a reality when a leader prioritizes communication.
But the reality is that despite the tangible benefits, leaders often throw up barriers to effective communication. These barriers may arise because leaders buy into some common communication myths, or because they don't see the value in communication—among other reasons.
This eBook will help communication professionals recognize the 10 most common barriers to effective communication that leaders construct. It reveals what communicators can say to their leaders to help guide their thinking and offers a host of actionable tips for moving leaders past these barriers, including what to say and what to do.
Learn how to break barriers from leaders who are:
Scattered; communicate reactively
Trapped in the tactical
Not engaged in communication planning
Don't value communication
Providing you limited access to him or her
Today, the savviest executives are realizing the power and potential of communication to drive results. Smart leaders know they need to connect the dots differently than before.

This is an unprecedented opportunity for communicators.

The question is: Do you know how to set your leader up to succeed as a leadercommunicator? More importantly, do you know what stands in your way and what you need in your toolkit to impact decisions at the highest levels in your organization?
Download the Top 10 Barriers Communicators Face and get the tools you need to break down the barriers when working with your leaders.