May 9, 2014
Weekly Round-Up: On Motivational Leadership, Defining Teamwork & the Science of Workplace Morale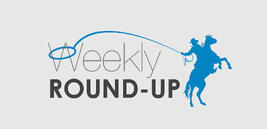 Welcome to my weekly round-up of top leadership and communication blog posts. Each week I read and tweet several great articles and on Fridays I pull some of the best together here on my blog. So in case you've missed them, here is this week's round-up of top posts.
They'll provide you with tips, strategies and thought-starters from many of the smart folks in my network. So whether you're a new leader or an industry veteran there'll be something here for you.
Motivational Leadership by Example
By Italia D. Woodson, Switch & Shift
"Would you consider yourself a leader, manager, or both? In most cases, managers consider themselves leaders, but do you think your team members…"
Leadership Skills: The Two Ways Trust Goes Wrong
By Christopher Avery, Christopher Avery & The Leadership Gift
"Trust is a topic people can talk and write about endlessly, but the good news is that there are just a few truly important truths about it that are worth understanding…"
What Leadership Is Not
By Les McKeown, Inc.
"In previous extracts, we first redefined what leadership is, in order to de-mystify it, and took a fresh look at where leadership occurs. Finally in this first chapter…"
What Is Teamwork?
By Sean Glaze, #BEALEADER
"Do you need a great working definition to share with your team when they ask the question 'what is teamwork?' Defining the term can certainly help to guide…"
A Happy Office Is A Serious Business: The Science of Workplace Morale
By Rob Asghar, Forbes
"Most managers eagerly pay lip service to concepts like trust, teamwork and innovation. But many haven't gotten around to accepting what the latest …"
What were some of the top leadership articles you read this week?
- David Grossman
__________
Looking for ways to become a more effective leader?
Download our free eBook on good vs. bad bosses & get 6 must-do strategies to ensure you lead for good, not evil.