May 23, 2014
Weekly Round-Up: On Making Everyone Feel Valued in the Workplace, What Great Leaders Say in Times of Change & How to Mentor for Success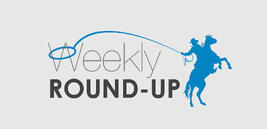 Welcome to my weekly round-up of top leadership and communication blog posts. Each week I read and tweet several great articles and on Fridays I pull some of the best together here on my blog. So in case you've missed them, here is this week's round-up of top posts.
They'll provide you with tips, strategies and thought-starters from many of the smart folks in my network. So whether you're a new leader or an industry veteran there'll be something here for you.
Most Workplaces Don't Make Everyone Feel Valued—Here's How To Fix That
By Gwen Moran, Fast Company
"In the debate over whether inclusive workplaces matter, another study points to "yes." Catalyst, a New York City-based nonprofit focused on expanding opportunities…"
8 Things Great Leaders Say In Times of Tumultuous Change
By Geil Browning, Inc.
"Change is one of the few certainties an entrepreneur can count on in business. It comes in many different forms--from hiring a new employee to moving to a new office to merging with another company…"
6 Indicators of a Great Manager
By Gary Magenta, Switch & Shift
"We all talk about the impact that strong leaders have on successful businesses and ways in which you can become a good leader. Many corporations spend exorbitant amounts …"
The Unrecognized Action That Kills Engagement
By Sebastian Bailey, Forbes
"We are all fluent in the small things that make us feel excluded – being interrupted, having our name constantly mispronounced, failing to gain eye contact, the joke we are not included in.…"
Building a Foundation for Mentoring Success
By Susan Bowen, Todd Nielsen Blog
"I want to start a mentoring program." You may have said this. You may have heard this. You may have been tasked to lead this effort. Mentoring programs are quite popular…"
What were some of the top leadership articles you read this week?
- David Grossman
__________
Download our eBook Top 10 Barriers Communicators Face today!