June 13, 2014
Weekly Round-Up: On Principles for an Engaging Company Culture, Increasing Morale & the Art of Effective Business Email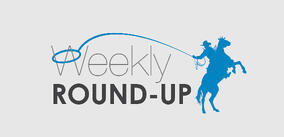 Welcome to my weekly round-up of top leadership and communication blog posts. Each week I read and tweet several great articles and on Fridays I pull some of the best together here on my blog. So in case you've missed them, here is this week's round-up of top posts.
They'll provide you with tips, strategies and thought-starters from many of the smart folks in my network. So whether you're a new leader or an industry veteran there'll be something here for you.
3 Principles for a Contagiously Engaging Company Culture
By Kevin McCarthy and Gordana Radmilovic, Fast Company
"Company culture is one of the business world's favorite buzzwords right now--something thrown around to collect awards and impress recruits. In some cases, 'culture' isn't…"
One Simple Tip for Making Good Decisions
By Christina Desmarais, Inc.
"While it might be true that good leaders excel at consistently making good decisions, great leaders try to involve others in the process, at least when there's the time and opportunity to do so…"
The Art of Effective Business Email
By Rob Asghar, Forbes
"Distinguished tech experts have been predicting (or praying for) the death of email since the first person abused reply all, which was pretty much within the first minute of email's existence.…"
Shift into High Workplace Morale by Leading Curiosity
By Dr. Ellen Weber, Switch & Shift
"Few would disagree that low morale comes from a sense of feeling used or bored. But have you ever wondered how high morale kicks into gear – with its sense of wonder…"
Can Your Team Really Trust You?
By David M. Dye, Tanveer Naseer Blog
"Our team of teachers and high school students had just finished a rafting trip, changed into fresh clothes, and loaded up our convoy of vans to head out to our hotel…"
What were some of the top leadership articles you read this week?
- David Grossman
___________
Download our latest eBook today and find out the "secret weapon" every CEO needs!