June 27, 2014
Weekly Round-Up: On How to Build Necessary Types of Trust for the Workplace, Leadership Secrets from a CEO & Promoting a Collaborative Environment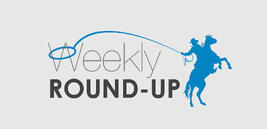 Welcome to my weekly round-up of top leadership and communication blog posts. Each week I read and tweet several great articles and on Fridays I pull some of the best together here on my blog. So in case you've missed them, here is this week's round-up of top posts.
They'll provide you with tips, strategies and thought-starters from many of the smart folks in my network. So whether you're a new leader or an industry veteran there'll be something here for you.
Leadership Secrets From Yum! Brands CEO David Novak
By Kevin Kruse, Forbes
"Chairman and CEO of Yum! Brands and author of Taking People With You, David Novak, shared his leadership advice this week in a keynote for the.…"
How to Build the 3 Necessary Types of Trust for the Workplace
By Mark Lukens, Fast Company
"One of the most important things that a manager can do, and one of the most powerful, is to trust in others. Trusting can be a hard thing to do. It involves…"
12 Personality Traits of a Great Boss (Infographic)
By Graham Winfrey, Inc.
"Distinguished tech experts have been predicting (or praying for) the death of email since the first person abused reply all, which was pretty much within the first minute of email's existence.…"
The Employee Trinity: Engaged, Happy and Motivated
By Shauna Sexsmith, Switch & Shift
"I once worked for a company that told me this on my first day: 'When you work here we want you to feel happy. We want you to understand your value, your…"
How Leaders Promote Collaborative Environment
By Tanveer Naseer, Tanveer Naseer Blog
"When it comes to thriving in today's fast-changing, interconnected global economy, one of the attributes of organizational success that often comes up…"
What were some of the top leadership articles you read this week?
- David Grossman
____________
Get regular updates by subscribing to our blog today!