July 11, 2014
Weekly Round-Up: On Building a Fulfilling Life and Career, 15 Body Language Mistakes & Simple Ways to Boost Your Productivity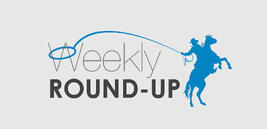 Welcome to my weekly round-up of top leadership and communication blog posts. Each week I read and tweet several great articles and on Fridays I pull some of the best together here on my blog. So in case you've missed them, here is this week's round-up of top posts.
They'll provide you with tips, strategies and thought-starters from many of the smart folks in my network. So whether you're a new leader or an industry veteran there'll be something here for you.
4 Common Vocal Mistakes Leaders Make
By Lisa Evans, Fast Company
"Commanding respect as a leader means more than having a fancy job title and a corner office; it also means having the right tone of voice. Laura Sicola linguist and founder of…"
8 Gems on Building a Fulfilling Life and Career
By First Round Review, Inc.
"Heidi Roizen is one of those names in Silicon Valley that everyone learns at some point. That's what happens when you spend 14 years running your own company, then building developer relationships as a VP for Apple. Today, she's an investor…"
The Science Behind the Effectiveness of Emotional Stories
By Vikas Gopal Jhingran, Switch & Shift
"Do you remember the last time you heard a great speech? Chances are high that it included an emotional story. The best TED speeches for example, the ones that get the longest standing ovations, are consistently those…"
Stop Making These 15 Body Language Mistakes
By Bernard Marr, PR Daily
"Until you get to know someone, your brain relies on snap judgments to categorize him, predict what he will do and anticipate how you should react…"
Three Simple Ways To Boost Your Productivity
By Yan Revzin, Forbes
"Productivity can be a major challenge when you're in business for yourself. This can be especially difficult for people making the transition from employee to entrepreneur…"
What were some of the top leadership articles you read this week?
- David Grossman
__________