October 7, 2014
Checking Email and Working on Projects after Hours Can Be Hazardous to Your Health, German Study Finds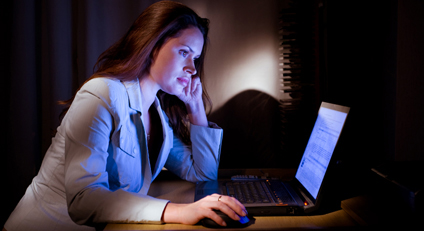 Convinced that those late nights checking email and working from home are making you physically sick? Now you have evidence to prove your case.
A German study of roughly 57,000 European workers found that those who put in extra time beyond their normal work hours were more likely to experience health problems. Reported problems were wide-ranging, including cardiovascular, gastro-intestinal and psychological issues.
The research was published in September in the academic journal Chronobiology International. "The findings thus indicate that even a small amount of supplemental work beyond contractually agreed work hours -- may increase the risk of work-related health impairments," wrote the authors, Anna Arlinghaus and Friedhelm Nachreiner. "… Thus, in order to minimize negative health effects, availability requirements for employees outside their regular work hours should be minimized."
In the conclusion to their study, the authors put the onus on employers to address the problem: "From an occupational health and safety standpoint … work needs to be designed in a way so that tasks can be accomplished within regular or contractually agreed work hours," they wrote. "… Free time should be free time, otherwise it must be expected that it cannot fulfill functions of recovery and recuperation."
The authors argued that the ability to work from home – using smartphones and laptops – carries many hidden disadvantages, often stretching the work day well beyond reasonable hours, boosting stress levels and putting people at risk for health issues.
The authors found that more than half the European Union workers surveyed had worked in their free time to meet work demands.
The German study adds to a growing body of research -- and concern –with the lack of work-life balance for employees today.
A Gallup study published this year found that nearly half of U.S. workers who "frequently" email for work outside of normal working hours report significant stress.
Noting the concerns, some companies are trying to respond. This year in France, a federation of employers and workers' unions began giving employees the right to disconnect from email for a specific amount of their off hours. German car and truck maker Daimler recently launched a "Mail on Holiday" program that allows some German employees to have their emails automatically deleted while on vacation. The program gives senders an alternate contact during the employee's absence.
Our clients have also gotten more serious about email overload and are looking to find more efficient ways to use email so workers don't feel as glued to their devices at all hours.
What are your ideas for addressing the serious impacts of email overload within your company?
- David Grossman
__________
Check out email research & useful resources to tackle email overload!