October 17, 2014
Weekly Round-Up: On Staying Present as a Leader, the Secret to a Better Reputation through Better Storytelling & the Importance of Holding Others Accountable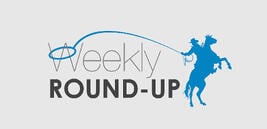 Welcome to my weekly round-up of top leadership and communication blog posts. Each week I read and tweet several great articles and on Fridays I pull some of the best together here on my blog. So in case you've missed them, here is this week's round-up of top posts.
They'll provide you with tips, strategies and thought-starters from many of the smart folks in my network. So whether you're a new leader or an industry veteran there'll be something here for you.
The Secret to a Better Reputation Isn't Better Adjectives—It's Better Storytelling
By Ryan Clancy, Fast Company
"In the early 20th century, psychologists discovered that your brain, just like your stomach, can get full. The phenomenon was eventually called semantic satiation--where people got so tired of hearing a repeated word…"
Competitive Advantage for Leaders Comes From Surprising Trait
By Zachary Feder and Khatera Sahibzada
"In an age where authoritarian power is being questioned from the classroom to the boardroom, the emerging research is conclusive -- humility is a dramatically more powerful and effective way of leading…"
3 Ways Leaders Stay Present
By Dr. Anne Perschel, Switch & Shift
"Executive presence requires being present. Being present means being aware of what's happening, in the here and now, the present moment. Being present is rarely mentioned when people discuss executive presence…"
Holding Others Accountable
By Mary Jo Asmus, SmartBlog on Leadership
"When I was young and new to a corporate position, my manager, Karen, gave me an assignment that involved translating a confusing government regulation into a benefit that would be available for our employees…"
Top 10 Questions for Employee Engagement Surveys
By Melcrum
"Employee surveys may range from annual "epics" to monthly pulse surveys, but there is no one-size-fits-all version. Your organization's culture, employee profile, leadership approach and even…"
What were some of the top leadership articles you read this week?
- David Grossman
___________
Free eBook: Download the Top 10 Barriers Communicators Face, today!